Lacombe Lucien
(1974)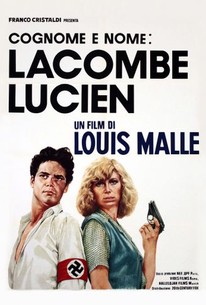 Movie Info
With a superb music score by Django Reinhardt, this is a Louis Malle film about the German occupation of France. Based on his own experiences in France during the occupation, Malle's film does not paint a pretty picture of the French Resistance and eventually he emigrated to America because of the critical reaction to this film. Essentially the tale of a young boy who wants to join the Resistance but is shunned by them because of his youth, he joins the Gestapo. Unfortunately, he then falls in love with a young Jewish girl. Push comes to shove and he suddenly has the unsympathetic Resistance and the Gestapo hot on his trail. Not a pretty picture of either side.
Rating:
R
Genre:
,
Directed By:
Written By:
In Theaters:
On DVD:
Runtime:
Studio:
Criterion Collection
Critic Reviews for Lacombe Lucien
Audience Reviews for Lacombe Lucien
This is a good movie, perhaps - a very good movie, but really sad. According to Wikipedia, film critic for The New York Times Vincent Canby said that film center character, "must remain forever mysterious, forever beyond our sympathy". While there hardly could be any sympathy indeed, I don't see much of mystery in Lucien. Louis Malle showed us enough to see this undeveloped but sadistic character. He is not hopeless, he could become closer to norm, but on the other side, at this age person must already responsible for himself. Lucien Lacombe fails to be responsible. A reviewer at IMDB said something about "innocence corrupted by war". Oh, no. It's not innocence, it's a brutal under-development. War didn't teach Lucien to kill birds. And I hope a reviewer would never encounter such "innocent" luciens on his way. I served in Russian army and I saw such characters...
Vladimir Kelman
The kid in this film is definitely a top contender for the Most Sociopathic Youth award. I was sufficiently entertained by this film but it isn't great. It's incredibly plodding at times and it tends to dead-end or simply leave certain points unended altogether. Lots of blank stares and quiet moments. I don't necessarily mind both or either, except that this film takes them to new extremes. It feels like a robot made this film; there is next to no emotion. I realize that most of these points of contention were, in fact, the point of the film itself; I simply feel that they don't mesh well together at the end of the day.
William Reynolds
Lacombe Lucien Quotes
There are no approved quotes yet for this movie.