Lady Oscar
(1979)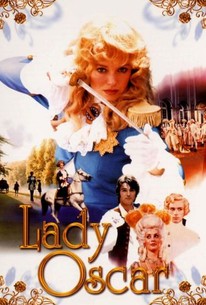 AUDIENCE SCORE
Critic Consensus: No consensus yet.
Movie Info
Based on a popular Japanese comic and set in late 18th century France, this adventure tells the tale of a young woman's passion and courage during the revolution. The woman, an aristocrat's daughter, was raised as the boy her father had so wished for. This upbringing later comes in handy when she becomes the personal body guard to Marie Antoinette. When not guarding her Ladyship, the brave woman has tender secret trysts with the housekeeper's handsome son. When revolutionaries storm the Bastille, the lovers are separated. The production values of Lady Oscar are exceptional.
Critic Reviews for Lady Oscar
There are no critic reviews yet for Lady Oscar. Keep checking Rotten Tomatoes for updates!
Audience Reviews for Lady Oscar
½
"Lady Oscar" starts with General de Jarjayes(Mark Kingston) being more saddened by the birth of another daughter who he calls Oscar, than the death of his wife in childbirth. As he intends her to be raised as a boy, the general employs Andre, the grandson of the nanny(Constance Chapman), as Oscar's companion, and as children they are inseparable. But as adults, they have to go their separate ways, as Oscar(Catriona MacColl) is appointed to the queen's guard while Andre(Barry Stokes) is left behind in the stables. While at court where her manner of dress is imitated, she gets to befriend Marie Antoinette(Christine Bohm) and Fersen(Jonas Bergstrom), a foreign dignitary, and fight a duel. All of which would make Robespierre(Christopher Ellison) angry if only he knew. "Lady Oscar" is a spirited genderblender that has a good deal of fun with history, even as it is strangely ambiguous about its eponymous heroine who is a precursor to a drag king, able to mix in society in a time when it was fashionable for men to be feminine. But still there were some things neither 1779 nor 1979 were ready for, even as Oscar does have her moment in the sun. However, that does not explain why she is sidelined at times in favor of a subplot about a necklace which is literally a different movie entirely. As far as this one goes, it is about how even in the most restrictive social environments like pre-revolution France, there are still choices to be made which everybody has to live with, even Marie Antoinette.
Lady Oscar Quotes
There are no approved quotes yet for this movie.