Lake Tahoe
(2008)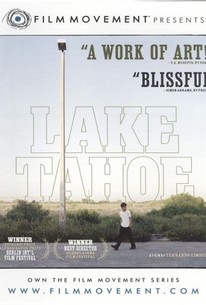 Movie Info
Teenage Juan crashes his family's car into a telegraph pole on the outskirts of town, and then scours the streets searching for someone to help him fix it. His quest will bring him to Don Heber, an old paranoid mechanic whose only companion is Sica, his almost human boxer dog; to Lucía, a young mother who is convinced that her real place in life is as a lead singer in a punk band, and to "The One who Knows", a teenage mechanic obsessed with martial arts and Kung Fu philosophy. The absurd and bewildering worlds of these characters drag Juan into a one day journey in which he will come to accept what he was escaping from in the first place--an event both as natural and inexplicable as a loved one's death.
News & Interviews for Lake Tahoe
Critic Reviews for Lake Tahoe
Audience Reviews for Lake Tahoe
½
"Lake Tahoe" starts with Juan(Diego Catano) not so much wrapping a car around a telephone pole, as lightly tapping it. While he is unharmed, the car is not. Since this is Sunday, most of the auto repair shops are closed for the day and Don Heber(Hector Herrera) thinks he is trying to rob his place of business. Eventually, Juan does manage to convince the old man of his honest intentions and in return is told what is probably wrong with the car. Now all he needs is a part which turns out to be more elusive and expensive than he had originally imagined... "Lake Tahoe" is filmed with a stationary camera, usually at a distance from the action, which is a style that usually puts me on edge. However, this time it works well with the deadpan comedy of Juan's odyssey. Even with an extreme tonal shift that occurs halfway through when a vital piece of information is nonchalantly dropped in the viewers' laps, the movie remains a bittersweet look at how we are never alone as we think we are.
I know it probably won't win any Oscars, but this is by far my favorite film of 2009 and my favorite international film of the '00 decade.
George Napper
Super Reviewer
Lake Tahoe Quotes
There are no approved quotes yet for this movie.