Land of the Pharaohs
(1955)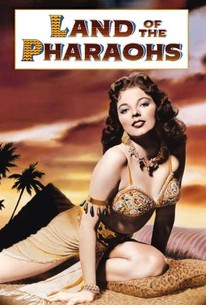 Movie Info
Un faraón de Egipto ordena la construcción de la pirámide más grande del mundo.Jack Hawkins, Joan Collins, Howard Hawks.
Critic Reviews for Land of the Pharaohs
Audience Reviews for Land of the Pharaohs
½
Just wanting to make an epic is not enough, and this "epic" seems made entirely to prove exactly that point. Howard Hawks has a cast of thousands but has nothing for them to do. And why? Lousy writing. Jack Hawkins works hard to imbue his pharaoh with life but the guy only has the love of gold to sustain his character. Joan Collins gets a little more mileage simply by vamping. The entire effort comes off like a lesser than version of Egypt, Yul Brynner and Cecil B. DeMille shaking your memory.
Kevin M. Williams
Super Reviewer
½
I never had a chance to see this epic film directed and produced by Howard Hawks and starring the two British actors Jack Hawkins and Joan Collins as Pharaoh Khufu (we know him under the name of Cheops) and his second wife Nellifer, in fictional account of the building of the Great Pyramid. After reading a few good reviews on RT I decided to give it a go. Novelist William Faulkner was one of the three screenwriters, and he did what was needed for the Hollywood production of that time. Harold Jack Bloom and Harry Kurnitz just helped to prepare the script to the standard of that time - what people wanted to see... at least they thought that! The grandeur of the ruler of ancient Egypt, Pharaoh Khufu (Jack Hawkins) was obvious in every scene throughout the story in which he was obsessed with preparations of his tomb for the "second life". One of his prisoners - Vashtar (James Robertson Justice), an ingenious man whose devices nearly saved his own people from being conquered and enslaved by Khufu, will help him in that, seemingly impossible, task: building a robber-proof tomb. A generous offer of Khufu to free Vashtar's people if he will build such a tomb will not include Vashtar - he will have to die when the pyramid-tomb is completed, to guard its secrets. During the years that the pyramid is being built, Pharaoh demands tribute and labour from all his territories, amassing gold and treasures to be interred with him. A cast of thousands (Warner Bros. press office claimed there were 9,787 extras in one scene) which seemed as millions, this movie is to be remembered as one of Hollywood's largest-scale, ancient world epics, in the spirit of The Robe, The Ten Commandments, Ben Hur, and others. As an archaeologist I spent many years in some of those locations, and some of those shot in Egypt haven't changed much. Titanus studios in Rome were used for anything else not shot on the Egyptian soil, and there were a perfect choice. My hero of this movie was Dimitri Tiomkin - amazing music score followed every move... but I'll have to admit, amplified some of the cheese moments in the movie, as well. I watched the UK version of the movie ( the shortest one of 104 minutes) which had only 2 minutes difference with the US version (106 minutes)... I wanted really to see what was extra in the Canadian version which was much longer (144 minutes) - but I could not find it anywhere (any Canadians out there to help?). The movie was Howard Hawks's first commercial failure. It caused Hawks to take a break from directing and travel through Europe for a number of years. He made his next movie, Rio Bravo (1959), four years later - the longest break between two movies in his career, which proves how high his expectations were for this one. Hawks had between 3,000 and 10,000 extras working each day during the fifty-plus day shooting schedule, and the Egyptian government supplied the extras, half of whom were soldiers in the Egyptian Army... and he thought this will be the movie he'll be remembered for. But, even after following every rule in the book how to make a blockbuster, the audience wasn't there, at least to cover the cost of the production! It had a strong cast which failed to perform up to their abilities, mostly due to the unfamiliarity with the spirit of the times there were presenting. But, at the time there was more focus on recreating the building of the background and the scenery, as well as the authenticity forgetting that the audience comes to be convinced by acting as well that they are part of it. I will still recommend this movie as a part of a film history because it has its values in excellent photography, music, scenery, camera work, experience directing... but really at the end was just an epic soap opera happening in ancient Egypt with a screenplay in need of improvement regarding the dialogues.
½
not as cheesy as it looks but still pretty damn cheesy
Stella Dallas
Super Reviewer
Land of the Pharaohs Quotes
There are no approved quotes yet for this movie.