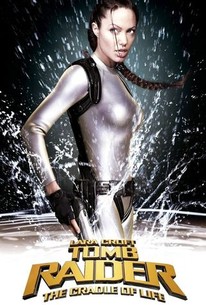 Lara Croft Tomb Raider: The Cradle of Life
2003, Adventure/Action, 1h 58m
175 Reviews
250,000+ Ratings
What to know
Critics Consensus
Though the sequel is an improvement over the first movie, it's still lacking in thrills. Read critic reviews
Rate And Review
Lara Croft Tomb Raider: The Cradle of Life Photos
Movie Info
Fearless explorer Lara Croft (Angelina Jolie) tries to locate Pandora's box before criminals Jonathan Reiss (Ciarán Hinds) and Chen Lo (Simon Yam) use it for evil. According to myth, the box holds deadly organisms that could kill millions of people. With her old partner, Terry (Gerard Butler), Croft goes on a hunt that takes her from Europe to Asia to Africa, where pal Kosa (Djimon Hounsou) helps her. Along the way, Croft rappels down cliffs, scuba dives and decimates many male opponents.
News & Interviews for Lara Croft Tomb Raider: The Cradle of Life
Audience Reviews for Lara Croft Tomb Raider: The Cradle of Life
Angelina Jolie reprises her signature role in the action-packed adventure Lara Croft Tomb Raider: The Cradle of Life. This time Croft is hired by MI6 to stop a mad scientist who is intent on finding the mythical Pandora's Box and releasing its deadly contents into the world. Unfortunately Jolie's performance is rather lifeless, and she doesn't have much chemistry with co-star Gerard Butler. Additionally, the storytelling is poor, randomly going from place to place with characters dropping in and out without much explanation. An uninspired and wholly unnecessary sequel, Lara Croft Tomb Raider: The Cradle of Life is rubbish.

This time, they took out the colon between "Lara Craft" and "Tomb Raider", like Tomb Raider is the name she married into, so it's only natural that the colon now leads into talk of a cradle. "Well, rock the cradle of life!" Man, that poster has got Angie Jolie, looking hot in a silver cat suit, with the title in huge, bold, golden letters, which makes this look more like the sequel to "Monty Python's The Meaning of Life", and it doesn't help that the movie is kind of hilarious in its British silliness. Well, this film did get better reviews than its actual predecessor, although that just means that people disliked it, rather than flat-out panned it, so, either way, one can understand why so many people were turned off by this film. That's right, people, even though the reviews were relatively better, instead of making a whopping $274,703,340, it only made a mere... $156,505,388. Well, I guess Angelina Jolie in a silver cat suit in front of big, bold letters still sells quite a bit, as shocking as that might be. It helps that this film is pretty entertaining, whether it be better than its predecessor or not, although that means that this film has stuff to turn people off, as well. Man, this movie is unsurprisingly corny, and although the tone is arguably not quite as confused as it was in the predecessor, that just means that there's a little more balance in cheese within the fluffy humor and over-the-top action and storytelling, all backed by trite dialogue and, last, but no least, an overwrought style. The overt fluff would be easier to get past if it was mildly original, but as things stand, what freshness there may have been in the predecessor is all but cleansed in this stereotypical action-adventure popcorn piece which hits trope after trope, formulaic set and dialogue piece after formulaic set and dialogue piece, and character type after character type. Nevertheless, viewers stand to be more familiarized with this conventional story and its basic characters, for the film glosses over exposition and jars between its segments as it progresses through a narrative of broad, but disjointed scope, and yet, the final product still finds time to bloat itself with fat around the edges and aimless meanderings in order to achieve an unreasonable runtime of almost two hours. This film is fun, but it doesn't quite have much as much of the momentum which saved the predecessor, and is sometimes bland, so I suppose you could say that even the entertainment value that can make or break a film like this goes a bit superficialized. More than anything, the story is superficial, and ridiculous, having a little more dimension than the predecessor's story, with less convolution, but still no real resonance amidst the often lazily inconsequential, thematically overblown plotting whose shortcomings are further stressed by missteps. The film makes a lot of problematic moves, in concept and in execution, and even though entertainment value never truly abates, patience is limited by a lack of substance, and challenged by cheese, conventions and a disjointed, limply dragged out structure. The film's superiority to an already seriously underwhelming predecessor is pretty debatable, but, make no mistake, just as a fun factor saved said predecessor, it saves this film, which doesn't have much substance or consistency, yet has plenty of flare. Graeme Revell composed a lively, but superficial and often near-painstakingly overstylized score for the predecessor, and here, even though Alan Silvestri does nothing new and gets a little overblown himself, his musical style which encompasses electronic rhythms and a few elements of neo-classicism is a little more realized in its being both lively by its own right, and complimentary to the liveliness of the film overall. The visuals of the film further keep things colorful, for David Tattersall's clean cinematography does a fine job of capturing a certain majesty to sweeping settings that in turn capture the scope of this adventure opus, and are further distinguished by Silver Cheung's, John Fenner's, John C. Hill's and Paul Kirby's often unique art direction. The practical technical touches are pretty solid, as are the digital touches, which have become rather dated, sometimes cheesily so, but are conceptually nifty enough to hold your attention, especially with a flashiness that is at its most captivating during tightly choreographed and extensively staged action sequences that is itself greatly complimentary of the fluffy entertainment. Popcorny something fierce, this film thrives on fluff, and that's seriously superficial, but it is sort of justified by the aforementioned solid style, as well as some colorful highlights in conventional humor, and a solid fun factor on paper. The story might not be quite as superficial or convoluted as that of the predecessor, but I'm not entirely sure that it lives up to the last non-plot's liveliness, and yet, this is still a grandly adventurous narrative that is interesting to unravel, especially when told with plenty of color by Jan de Bont, whose direction packs in enough style and fast pacing to keep an excessive runtime of almost two hours running about as smoothly as it can, what with all of the other storytelling hiccups. At the very least, there's a charm to de Bont's efforts, and they are outweighed by the charm found all throughout the cast (Always nice when Djimon Hounsou shows up), from which the beautiful Angelina Jolie stands out, yet again, with a strong charisma that makes the casting choice and, of course, the lead pretty worthy. Again, I don't know if the film is quite as fun as its mindless, but entertaining predecessor, but it is still pretty fun by its own right, with enough style, scope and momentum to hold your attention, even if it asks nothing from and does plenty to challenge your investment. When the cradle falls, the final product falls pretty firmly into underwhelmingness, under the weight of cheese, genericism, disjointed pacing and an almost blandly overlong runtime, all behind a hopelessly superficial story, but on the back of lively score work, clean cinematography, grand settings and art direction, decent visual effects, dynamic action, and a certain fun factor in the story that is brought to life by well-paced direction and charismatic performances, "Lard Croft Tomb Raider: The Cradle of Life" stands as a very entertaining, if utterly inconsequential action-adventure popcorn piece. 2.5/5 - Fair

Its pretty much the same as the first one . . . except without the occasional fun moments. So the sequel is boring while taking itself too seriously.

Fun and mindless action adventure.
See Details