Leap!
(2017)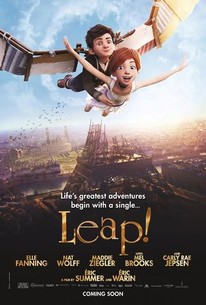 TOMATOMETER
AUDIENCE SCORE
Critic Consensus: From its bland story to its unremarkable animation, Leap! does little to distinguish itself from a long list of like-minded -- and superior -- family-friendly alternatives.
Movie Info
11-year-old orphan, Félicie (Elle Fanning) has one dream - to go to Paris and become a dancer. Her best friend Victor (Nat Wolff), an imaginative but exhausting boy with a passion for creating, has a dream of his own - to become a famous inventor. In a leap of faith, Victor and Félicie leave their orphanage in pursuit of their passions. But - there's a catch, Félicie must pretend to be the child of a wealthy family in order to gain admittance to the prestigious and competitive Opera Ballet School in Paris. And with no professional dance training, she quickly learns that talent alone is not enough to overcome the ruthless, conniving attitudes of her fellow classmates, led by the devious Camille Le Haut (Maddie Ziegler) and her wicked mother Régine (Kate McKinnon). Determined to succeed, Félicie finds her mentor in the tough and mysterious school custodian, Odette (Carly Rae Jepsen) who, along with Victor's encouraging friendship, help her reach for the stars.
News & Interviews for Leap!
Audience Reviews for Leap!
Have you ever had a dream that you wanted to achieve so badly you could taste it? Who the fuck am I kidding, of course you have. It's one of those universal things that we can all relate to. I believe I've gone through some of my dreams as I was growing up. I wanted to be a vet, then later I wanted to be a rock star when I discovered Metallica at the age of 11. After that, I wanted to be a professional wrestler and, in some ways, I still do. But, at 30, I'm a little bit too old to start at that. As I got closer and closer to graduating high school, I wanted to be a forensic pathologist. What were some of your dreams? Post them below, in the comments section. Just kidding, I don't care. If you've ever wanted to see a movie that would make you give up hope on your dreams, then you've come to the right place. I suppose I should preface this by saying that I've seen my share of French CG movies. The two that come to mind almost immediately are A Monster In Paris and Jack and The Cuckoo Clock Heart (that's the whole title). Both of these movies, as I remember them, were both good. Perhaps not outstanding, but good enough. It doesn't compare, in both storytelling and animation style, to Sylvain Chomet's brilliant The Triplets of Belleville and The Illusionist, but they're good regardless. A Monster In Paris and Jack are never gonna compete with the Pixars or DreamWorks of the world in terms of technical prowess, but they offered their own entertainment regardless. Perhaps because of that, I was more open to giving this film a chance. The fact that it was the American cut of the film as opposed to, obviously, the French original was cause for concern, but I still went into this with an open mind. But, of course, in the end, I didn't feel that this was a good movie. And, honestly, I attribute that solely to it being the American cut of the film. I imagine that the original cut of the movie, completely intact, is considerably better than this. Hell, the French cut of the film has a favorable percentage on Rotten Tomatoes whereas this does not. So what does that tell you? One of the things that jumped out at me almost from the start is how the movie relies on inspirational pop songs about achieving your dreams and not giving up WAAAAAY too fucking much. Every few minutes there's a montage of Felicie practicing, dancing, learning, having fun, etc, etc, etc all set to American pop songs. They're trying so hard to make this an inspirational story where they use songs to explain the things you're supposed to be feeling every single moment. And, to me, that's just not a good form of telling a story. If you can't achieve it through your own narrative, pop songs aren't gonna fill in the blanks, because it's clearly transparent as to why they're doing it. I don't know, maybe the narrative itself wouldn't have done much for me anyway, but the use of popular music is one of the biggest detriments in this film. I also thought, and this isn't as much of the film's fault as to my own perceptions, that the movie was going to be balanced between Felicie and Victor and their separate journeys to achieve their dreams. But, nope, it's 85% Felicie and I don't have a problem with that, at all, but it's just that Felicie isn't exactly the best character either. She's an orphan girl who wants to make it as a ballet dancer despite having no formal training. There's nothing to her as a character though. Character progression is practically nonexistent until the day before her big audition against her rival, when she, inexplicably, rebels against Odette, who has helped train her, to go out with this boy. This comes out of nowhere, there's no build-up to it whatsoever and it's just incredibly forced character progression. Felicie rebels/lashes out because that is what HAPPENS in these films. The problem with this movie, or at least this version of it, is that everything feels so mechanical and robotic. Which is ironic, because one of the themes this movie tries to push forward is to find the passion within you that drives you to perform at your absolute best. And yet this movie has none of that, in the slightest. This cut of the film is lifeless and soulless. Just another animated film in a long assembly line of them, hoping to catch just a little bit of exposure due to the fact it's a CG film. This isn't a bad film, at all, but its lack of soul is very noticeable. The animation is solid enough but it doesn't really stand out. I saw Coco less than three months ago and I can remember more about that film's beautiful animation than I can of this movie and I finished watching this less than half a day ago. There's just nothing here that sticks out in your mind as particularly memorable. And let's get to the voice acting, shall we? More specifically, Elle Fanning's voice acting. Look, I'll say this right out of the gate, I think Elle is a very talented young actress. She's proven that throughout the years, but she is no good in this movie. I'm not gonna go so far as to call her bad. After all, she wasn't Nicole Kidman in The Guardian Brothers...or Bella Thorne in The Guardian Brothers...or Edward Norton in The Guardian Brothers. Bella Thorne, by that point already over 18 years old, was trying too hard to be a six-year-old girl. Edward Norton's voice just didn't fit with the character he was portraying. And Nicole Kidman, honestly, was just dreadful, like she'd rather be doing anything else. Anal bleaching, as an example. Again, I can't use the word dreadful to describe Elle in this movie. But I can say that the way she performed, it was painfully obvious that she would rather be doing anything else than what she was doing at that particular moment. Maybe the direction is partly to blame for that. This is the case for a lot of these B and even C-tier animated movies, when the voice acting is recorded, the directions they're given are not particularly effective. It's like they're talking down to your kids, trying to simplify it as much as possible, because they're morons. Now, don't get me wrong, your kids are probably morons anyway, but that type of Nick Jr. voice acting benefits no one. And that's what Elle Fanning, to a lesser extent, does in this movie. For all I know, her dialogue may have been recorded while she was playing golf. It's just part of the reason why you never really connect with Felicie in any sort of way. The way she's set up, you think that you'd relate to her almost immediately, but Elle's performance makes it impossible to do so. Again, she's not bad, just utterly bored. This movie is certainly watchable, decent enough animation and all that. But the movie completely misses the mark. The story is too predictable, the execution is mechanical and robotic, the use of pop songs is detrimental and the voice acting is nothing to write home about. So, yea, I can't say that I enjoyed this. It's fine, but there's better movies out there. Coco is still on Netflix. Please watch that beautiful masterpiece instead of this. And if you've already seen Coco, then watch it again. You'll like it better than whatever this movie may have provided you.
Jesse Ortega
Super Reviewer
An awkward and choppily paced animated film, with soaring dancing sequences but tone deaf screenwriting and irritating characters. Voiceovers don't match up with the animated mouths and the whole affair is misjudged morally, accounting an audition for a role as a kind of elimination Survivor competition, and a misguided climax. It's a wholly lower-tier animation. Rating: 35
There is nothing particularly memorable about Leap! an animated film being released by The Weinstein Co. that was originally titled Ballerina when it premiered in France and the United Kingdom last winter. That said, there is nothing particularly offensive about it either. Rather, Leap! is a sincere attempt to re-visit and reiterate age old lessons to the younger generations that continue to be born and require reassurance that they too can accomplish their dreams with hard work and dedication. That is essentially what Leap! comes to be as it sells the underdog story of a young girl who overcomes obstacles such as being an orphan in order to accomplish her dreams of becoming a ballet dancer. The film earns some credibility and points for uniqueness by taking the chance of placing itself in a period setting for no other reason than writer/directors Éric Summer and Éric Warinwhich wanted to which would seem to inherently be a reason for youngsters to disengage, but alas the movie chugs along not missing a beat despite the fact parents who have seen any movie ever will be able to guess the beats Leap! will seemingly follow. This never becomes an issue though, as the film sets its audience up to accept this then revels in the setting allowing it to influence the different approaches the movie is able to illustrate in regards to our two protagonists key passions. Felicie (Elle Fanning) with her dancing and Victor (Dane DeHaan) who is an inventor with an affinity for devices that might help us to one day fly. All of this endears us to the two of them immediately as not only are they orphaned and living in the midst of the late-1880's, but despite as much they have hopes and dreams and are bound to find a way out of their situation no matter how difficult Luteau (Mel Brooks), the groundskeeper at the orphanage, fights to keep them in line. The groundwork is laid early for what the viewer can expect as far as narrative goes as well as for how Summer and Warinwhich will handle the craft of this type of storytelling that relies on such unsurprising, but well-intentioned clichés. What Leap! has in its back pocket is that none of these obvious or typically telling factors corrupt the ever-glowing optimism that it holds and delivers through to its predictable, but appropriately cheery conclusion. read the whole review at www.reviewsfromabed.com
Philip Price
Super Reviewer
Leap! Quotes
There are no approved quotes yet for this movie.