Legends of the Fall
(1994)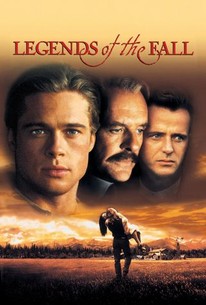 Legends of the Fall Photos
Movie Info
The sweeping, melodramatic saga of three brothers, their powerful father, and a beautiful woman, the popular period drama Legends of the Fall presents a romanticized view of rugged masculinity against lush Montana scenery. Based on a novel by Jim Harrison, the film covers decades in the lives of Alfred (Aidan Quinn), Tristan (Brad Pitt), and Samuel (Henry Thomas) Ludlow, the sons of retired military man William Ludlow (Anthony Hopkins). Raised by the unorthodox Ludlow after the departure of their mother, the boys grow up close, sharing an appreciation of the land and a pioneering spirit. The family becomes divided, however, when young Sam enlists in World War I over his father's objections, and his brothers follow suit to protect him. Despite these efforts, Sam dies in battle, leaving Alfred and Tristan to return home and deal with the lingering torment. Further complicating matters is the presence of Sam's beautiful fiancée, Susannah (Julia Ormond). After Sam's death, she attracts the romantic attention of both the responsible Alfred and the brooding Tristan, a conflict that threatens to drive the brothers apart. Aspiring to epic status, the film utilizes period detail and attractive landscapes as a backdrop for tragic, doomed romance. While some critics complained that the film resembled a romance novel writ, veering at times into the overwrought, audiences embraced the combination of emotion and grand historical scale, making the film a box-office success. ~ Judd Blaise, Rovi
People Who Like this movie also like
Critic Reviews for Legends of the Fall
Audience Reviews for Legends of the Fall
½
Not a legendary tale, but pretty absorbing family drama. Anthony Hopkins and Brad Pitt shine in their role and so do the supporting actors. However, I gotta admit that I didn't like Julia Ormond and Karina Lombard
familiar stranger
Super Reviewer
½
A movie that I feel is both good and bad at the same time. While it is a powerful story, the script is so overly corny that it is ruined. The acting is so-so, Brad Pitt and Anthony Hopkins gave the only decent performances.
Conner Rainwater
Super Reviewer
"Legends of the Fall" is an epic set in the early 1900s about a close-knit family that randomly comes together and breaks apart. Tristan (Brad Pitt), Alfred (Aidan Quinn), and Samuel (Henry Thomas) have always been real close. One thing that all three brothers have in common is that they all go into war together and see how tough it is to experience such a struggle, even though their father, Colonel William Ludlow (Anthony Hopkins) doesn't like the idea. Another thing they have in common is that they all love Susannah (Julia Ormond). All of the characters in "Legends of the Fall" have their own separate personalities that can clash or come together at the drop of a hat. I could explain each of them, but that would give the movie away. Throughout the film, the different characters provide commentary about different events such as reading letters that are written, or telling personal thoughts. "Legends of the Fall" won the 1994 Oscar for best cinematography in a motion picture, and it's true, this film does have spectacular scenery and landscapes, but that's the least that "Legends of the Fall" has to offer. There are both good times and bad times in "Legends of the Fall." Overall, it's a fairly depressing movie, but that's just because it's a realistic film about how jealousy and bad times such as war ruled the world back in the early 1900's, and probably even more these days. As I mentioned earlier, all of the main cast put out their absolute best effort in "Legends of the Fall." As always, I was the utmost impressed by Anthony Hopkins's performance. Brad Pitt, who was the main star in this film, puts out what is his best effort ever, in my opinion. I can tell when a movie is one of my favorites of all time by how much I want to see it after I see it for the first time, and especially by how often I watch it after seeing it several times. "Legends of the Fall" is one of those movies that never has and never will get old to me. No matter what kind of movie you like, even if you're not crazy about epics or dramas, give "Legends of the Fall" a chance. It just might become one of your favorite motion picture legends. NOTE: That was my Amazon review from the year 2001. Indeed, Pitt's best, one of Hopkins's best, and one of my favorites.
Jason Owens
Super Reviewer
Legends of the Fall Quotes
| | |
| --- | --- |
| Tristan Ludlow: | You guys look like a bunch of ice cream cones. |
| | |
| --- | --- |
| One Stab: | Some people hear their own inner voices with great clearness and they live by what they hear. Such people become crazy, or they become legends. |
| | |
| --- | --- |
| Samuel Ludlow: | Still hung over? |
| Tristan Ludlow: | Still drunk. |
| | |
| --- | --- |
| One Stab: | Every warrior hopes a good death will find him. But Tristan couldn't wait, he went looking for his. |
Discussion Forum
Discuss Legends of the Fall on our Movie forum!