Legion of the Dead (Le6ion of the Dead)
(2002)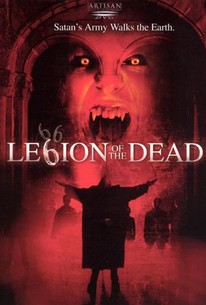 Legion of the Dead (Le6ion of the Dead) Photos
Movie Info
A sun-soaked drive through the California desert turns into a pitch-black nightmare for two vacationing teens in director Olaf Ittenbach's horrific roller coaster ride of supernatural mayhem. All William and Luke wanted to do was get away from it all and take a relaxing vacation from their hectic lives. When the unsuspecting pair discovers a small remote town inhabited by a malevolent blond man with a murderous plan to create an undead army, however, William and Luke must take up arms against a powerful force of darkness that threatens to consume all of humankind if not defeated before its evil influence spreads.
Critic Reviews for Legion of the Dead (Le6ion of the Dead)
All Critics (5) | Fresh (0) | Rotten (5) | DVD (2)
Sort of like how I imagine Samuel Beckett would read while huffing accelerant.
Recommended solely to those who aspire for a career in blood-packets and explosions of green bile, Legion of the Dead is just a mess - in every sense of the word.
I'd try to explain but I'm not sure that's possible.
November 26, 2002 | Rating: 1/5
Audience Reviews for Legion of the Dead (Le6ion of the Dead)
½
After seeing the third Ittenbach film I can safely say I am done watching his stuff. This one (I saw the producer's cut) was the best but that isn't really saying a whole lot. The plot's all over the place as well as the acting and there's actually less gore than the other two I have seen but it's clearly better made and for more money. I wish I could say I was interested to see what he's done since Legion but.... no, not really.
A.D. Villarreal
Super Reviewer
½
My first taste of German splatter director Olaf Ittenbach and the film didn't turn out to be as bad as a lot of reviews suggested. The plot is all over the place but it's unpredictable and introduces a whole bunch of nutty characters early on who all merge together towards the end for the final showdown against a Demon God who's attempting to raise an army of the dead. Pretty funny at times too but some of the humour was a bit childish occassionally. But the film really does deliver some top-notch gore throughout which is really all I wanted to see. It's one that's far from great but also one you cannot accuse of being boring, so don't go into this one expecting too much and enjoy the chaos of it all!
Legion of the Dead (Le6ion of the Dead) Quotes
There are no approved quotes yet for this movie.