Lemora - A Child's Tale of the Supernatural
(2001)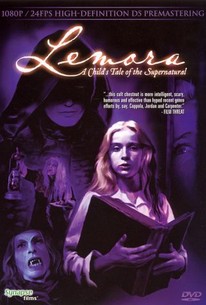 Lemora - A Child's Tale of the Supernatural Videos
Lemora - A Child's Tale of the Supernatural Photos
Movie Info
Lila Lee (B-movie starlet Cheryl Smith, later also known as Rainbeaux Smith) is the teenage daughter of a vicious gangster, Alvin Lee (William Whitton). Her backwoods life is disrupted when her father murders her mother. Reverend Mueller (played by writer-director Richard Blackburn) looks after the girl, whom he defends to his congregation as "the most innocent creature on God's earth." But soon after the murder, Lila gets a letter from a mysterious woman named Lemora (Lesley Gilb). The letter instructs Lila to quietly leave town and come to a remote community, Asteroth, where her ailing father is waiting for her, so she can forgive him for his sins. Lila follows the instructions, sneaking off during the night, but leaves a goodbye note for the reverend. Lila eventually finds her way to a rickety old bus driven by a wild-eyed madman (Hy Pyke, who would go on to play Taffey Lewis in Blade Runner). He takes her to the swamps outside Asteroth, where the bus is attacked by snarling, humanoid creatures. Lila manages to escape, and finds herself in the home of Lemora and her acolytes. Naïve Lila doesn't realize that Lemora is a vampire who appears to have a sexual interest in the teen, at one point bathing Lila and praising her "exciting figure." Eventually, Lila catches on, and as she fights to escape, the reverend rushes to rescue her. Lila's reunion with her father is worse than disappointing, as he's turned into a bloodthirsty fiend, like those that attacked the bus. Since its unsuccessful initial release, Lemora: A Child's Tale of the Supernatural has become a minor cult item, bolstered by tales of disappearing prints and a ban by the Catholic Church.
Rating:
PG
Genre:
, ,
Directed By:
Written By:
In Theaters:
On DVD:
Runtime:
Studio:
Critic Reviews for Lemora - A Child's Tale of the Supernatural
Audience Reviews for Lemora - A Child's Tale of the Supernatural
"Lemora: A Child's Tale of the Supernatural" 1973 This unusual vampire movie is strangely engaging. After listening to the commentary from the writer-director and actors I have the impression it was accidentally good. I don't think anyone working on the film had a good grasp of what they were doing, but through a combination of inspiration, luck, and good performances from the two lead actresses it turned out to be memorable. It follows the adventures of Lila (an ingénue who sings in the choir and is the adopted daughter of a minister) as she travels to a remote town in the American south, of the 1930s, to visit her dying father. She encounters creeps at every step along the way, at first human creeps then not so human ones. As the audience already knows, its a set up by a supernatural power to lure the girl. Her father is there but the real reason she was invited is because a vampire, Lemora, wants her. Lemora makes an impression with her wide, staring eyes and her aristocratic air. There are zombie-like vampires running wild in the area. They are a threat to Lila and a threat to Lemora's plans, whatever they are. Its a medium pace, atmospheric movie; a little bit southern gothic. The score is unusual and effective. Most movies of this type use orchestra music. This movie uses music like "Rock of Ages" and "Just a Closer Walk with Thee." In a couple of places I noticed a use of blue and red light that reminded me of "Suspiria." The end of the movie is mysterious and leaves you wondering. The end was not part of the original script and apparently was forced on the director by some other party. Perhaps the movie is best summed up by the question the guy working at the bus station asks Lila. "What do you like best now, soft or hard centers?"
Brandon Stocks
½
To put it quite simply this movie is visually and aesthetically terrifying. If you like creepy slow-burners in the vein of The Wicker Man or Let's Scare Jessica to Death, very moody
Colin Rinehart
½
It makes no sense, to me personally, as to why movies that are trash, or little better, ever gain any sort of a cult status... In contrast, movies that are created and performed well, such as The Man From Earth, The 4th Dimension, Mindwalk, A Certain Kind of Death, etc., (And most in particularly for low budget films!) receive little if any notoriety for their contribution to not only filmmaking but, for all of the other things that they contribute to, not the least of which is art, science, psychology, parapsychology, sociology, science fiction, creative thinking, etc., etc., etc... This particularly insipid piece of work has the least of all redeeming qualities. The story effectively sucked. The script & dialogue are particularly stupid. The acting was terrible, by EVERY character in the film but, particularly the background characters who have no speaking lines whatsoever! (The main character, "Lila", is one of the most spineless and perhaps the very most naive of all 'main characters' that I have ever been exposed to in any film that I have ever seen in my entire life!) The directing is more stunted and sophomoric than any director/movie studio/network could ever dare dream. The cinematography, I suppose, did do justice to this film: it was terrible and that's what this film deserved and continues to deserve! (Redemption turned on its head, no doubt!) And there was a certain amount of creepy atmosphere created entirely by some of the characters and the music; ...they are the ONLY redeeming qualities that this film has! Truly, is that all that is needed for a film to gain a cult/cult-like status?! Unfortunately, it's even less than that! I essentially do agree with another user's synopsis of this movie: "A porn flick and a drive-in flick had a little movie which they named Lemore: A Child's Tale of the Supernatural." If what they, also, said is true about how the Catholic Church responded to this film ...well, therein explains, some of, their own ignorant stupidity; this insignificant pile of trash didn't, and continues to not, deserve the notoriety that they gave it by rejecting it.
Morpheus One
Lemora - A Child's Tale of the Supernatural Quotes
There are no approved quotes yet for this movie.
Discussion Forum
Discuss Lemora - A Child's Tale of the Supernatural on our Movie forum!