Leonera (Lion's Den)
(2008)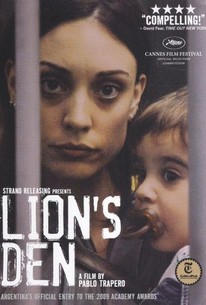 Leonera (Lion's Den) Photos
Movie Info
Writer/director Pablo Trapero crafts this tender tale of an incarcerated woman who gives birth to a baby boy and struggles to raise her son behind bars as she comes to the bleak realization that he is the only one who matters to her anymore. It all started when a pregnant Julia woke up in her apartment flanked by the bloodied bodies of her former lovers Nahuel and Romiro. Subsequently sent to a prison for mothers and pregnant convicts, Julia railed against the system by withdrawing into her own world. Upon giving birth, Julia realizes just how difficult it could be to raise a son in prison, but each day her feelings for the boy swell stronger within her. Later, when Julia pays a visit to Romiro in the men's prison, it becomes obvious that the couple's feelings for one another are just as muddled as the events of that fateful night back in Julia's apartment. ~ Jason Buchanan, Rovi
Critic Reviews for Leonera (Lion's Den)
Audience Reviews for Leonera (Lion's Den)
½
I would never say that the film was bad. But until Julia gives birth to her son, the movie is kind of aimless. When it becomes a story about a mother doing everything she can to raise her son as normally as she can under strange circumstances, then the movie improves a whole lot. Everything that happened before that was still solid and Martina Gusman was more good in her role, it's just that the story doesn't really kick in until she gives birth. The movie is well made and acted. I also liked the fact that there's a bit of ambiguity and the movie never tells you whether Julia did or did not murder the person she was accused of murdering. I thought that added a little intrigue to the story that wouldn't have been there if they had told you explicitly whether she did it or not. It's just a tiny little touch that actually adds a lot to the film as far as being intriguing and adding a little mystery to the proceedings. There was potential for this film to be melodramatic and overacted but I think, and this is typical of a lot of Argentinian films I've seen, the films are believably acted and they have a grit to their visual style that is more realistic. That's about it, sometimes the film can be a mixed bag but once the story gets to the heart of the matter, it ends up becoming a strong film with an excellent performance from Martina Gusman.
Jesse Ortega
Super Reviewer
Painfully realistic portrayal of one mother's struggle to raise her child in a penitentiary for women. Director Pablo Trapero doesn't pull any punches and Martina Gusman's performance is utterly fantastic.
Randy Tippy
Super Reviewer
½
Some beautiful movie were coming lately from Argentina and Lion's Den was also one of them. The movie, the characters. the performances and the location, all were amazing. It was not only a movie about a mother's struggle to raise her child in a prison, but it was more then only that. The movie was about mothers love and her struggle to prove her innocence to raise her child outside the prison. Presenting the movie scenes in a prison with background prison noises created an atmosphere which made this movie more real. What was remarkable in this movie the prison guards which usually were presented as brutal and heartless human beings, were in this movie touching and caring people. A real jewel from Argentina. Worth a watch.
Daisy Maduro
Super Reviewer
Leonera (Lion's Den) Quotes
There are no approved quotes yet for this movie.