Les Cousins
(1959)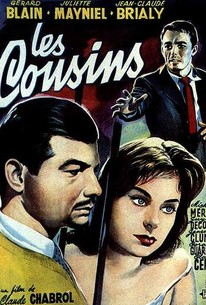 Movie Info
Claude Chabrol provides a few new wrinkles to the old "city mouse/country mouse" fable in Les Cousins. Bucolic Gerald Blain heads to Paris, where he enters into a romantic rivalry with his urbane cousin Jean-Claude Brialy. Their mutual object of affections is Juliette Maynal. Despite Brialy's glib tongue and worldly approach, he is beaten-nay, ruined-by the supposedly ingenuous Blain. In this second of Chabrol's feature-length efforts, the director introduces the generic character names "Charles" and "Paul", the former representing bourgeois values, the latter the embodiment of modern decadence. In various guises, Charles and Paul would reappear in virtually every subsequent Chabrol-directed domestic drama.
Critic Reviews for Les Cousins
Audience Reviews for Les Cousins
Chabrol creates a darkly ironic film that impresses with its stunning cinematography and mise-en-scène, excellent performances (especially Jean-Claude Brialy) and a depressing story about how it doesn't matter to be a good guy in a decadent society when good guys always lose.
Carlos Magalhães
Super Reviewer
This movie by French New Wave filmmaker Claude Chabrol has a pretty simple plot, but was enjoyable nonetheless. In a nutshell, Charles, an innocent and earnest young law student, moves to Paris from the provinces to live with Paul, his sophisticated, profligate cousin. He's immediately exposed to the party life, which is both wild (there is a lot of flirting and bottle smashing) and somewhat amusing (the young men are all in suits and ties, play Bridge in bars, and listen to Mozart and Wagner at parties). He falls for Florence, a woman who's been around, and while she wants to have a meaningful relationship, she's convinced by Paul and another friend that she'll find him boring. She ends up with Paul instead, and moves in with the two of them. Charles actually takes it quite well, sharing meals with them and doing his best to ignore them, for example, as they shower together. He gets a free book and great advice from a bookseller (study hard, and "Read Dostoyevsky - he addresses all your concerns!"), who was naturally my favorite character :). Exams loom, and while Charles tries to apply himself, Paul parties on. I won't spoil it any more than I already have. This was one of those old movies that was anything but boring. The New Wave movement had as its aim to make movies that were different in content and style, and this succeeds; it's quite edgy for its time, and Chabrol has some great shot sequences here. Seeing it really transported me to the Latin Quarter in 1959 Paris.
Antonius Block
Super Reviewer
½
Absorbing. Gerard Blain is subtle, yet mesmerizing.
Stefanie C
Super Reviewer
Les Cousins Quotes
There are no approved quotes yet for this movie.