Let There Be Light
(1946)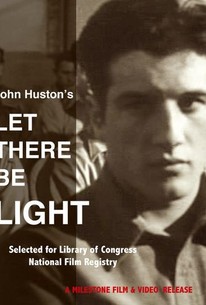 Let There Be Light Photos
Movie Info
At the request of the Signal Corps, John Huston made a wartime documentary of the emotionally disturbed war veterans being treated at Mason General Hospital. For three months, Huston immersed himself in the project, observing the various methods used to pull these shattered-in-spirit men out of their mental anguish, ranging from shock treatment to hypnosis. The key scene in Let There Be Light, as the film would be known upon its completion, a weeping veteran is brought back to the real world through the utilization of trance-inducing drugs. There is nothing that smacks of the sensational in this remarkable film, most certainly not the warm, reassuring narration of John Huston's father Walter. Yet when Let There Be Light was scheduled for a private showing at the Museum of Modern Art, the army confiscated the film, refusing to allow its release to any civilian audience. Huston later determined that the army simply didn't want the U.S. to see its fighting men as anything other than grinning, self-assured victors. Let There Be Light was not made available to the public until 1980, and then only on the special orders of vice-president Walter Mondale.
Rating:
NR
Genre:
, ,
Directed By:
Written By:
In Theaters:
Runtime:
Cast
Critic Reviews for Let There Be Light
Audience Reviews for Let There Be Light
½
This is an interesting documentary about the emotional price for war was banned for many years after it was produced. Director John Huston made this at the end of World War II, showcasing the turmoil the war caused on some soldiers. It is interesting in two ways, one to see how they dealt with these kind of issues in the 1940s, and also to see them actually talking about the non-death/physical wounded price that war has...so many films and documentaries produced of the era glossed over the emotional stuff. It isn't great propaganda to say that war is difficult and scars you mentally if not physically. Worth a look.
Ken Scheck
½
Let There be Light Actually I was surprised that for a documentary made in shortly after World War II that it adequately represented more ethnicities than just Caucasians. This film I thought was useful for historic purposes, psychologist, and families trying to understand how to go about family members after war veterans come back home. I thought that it was great that this was mostly real footage rather than people acting. I never realised all the kinds of things veterans did such as artwork, prep for civilian jobs and so fourth. I thought it was good that there was a happy ending but not always is there as happy of an ending as presented in the film as some psychological damage is permeant. I thought this was an interesting and useful documentary.
STCENTERPRISE .
Let There Be Light Quotes
There are no approved quotes yet for this movie.