Life With Judy Garland: Me and My Shadows
(2001)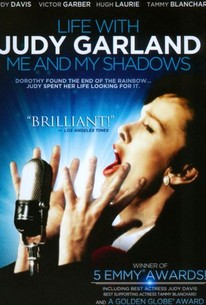 AUDIENCE SCORE
Critic Consensus: No consensus yet.
Movie Info
From her gradual ascent to stardom in the 1930s to her death from a drug overdose at age 47 in 1969, former vaudeville baby Frances Ethel Gumm, aka Judy Garland, endured a string of personal and career ups and downs that continues to color her reputation as an icon whose tragedies outweighed her triumphs. This TV biopic, based on the first half of daughter Lorna Luft's book Me and My Shadows: A Family Memoir, attempts to humanize Garland's legend by presenting the singer/actress' story from an insider's point of view. Tammy Blanchard plays the young Garland, an MGM contract player with an overbearing mom (played by Marsha Mason) who helped push her daughter to stardom -- and, along with studio boss Louis B. Mayer (Al Waxman), into a lifelong addiction to booze and barbiturates. From her early performances alongside Mickey Rooney to her breakthrough role in The Wizard of Oz, Life With Judy Garland paints the performer as a sweet kid who just wanted to please her mother, especially after the death of her gentle, beloved father (Aidan Devine). Australian actress Judy Davis takes over as the grown-up Garland as the film traces her five marriages, exile from MGM, countless film and stage comebacks, and crippling addictions. The film's final section concentrates on the home life of Luft, her brother Joey, and their half sister Liza Minnelli, as the kids and their broke mom moved from one hotel to another and Luft nursed Garland through depressions and binges. Life With Judy Garland premiered in February of 2001 on ABC, earning Emmy awards for both Davis and Blanchard.
Critic Reviews for Life With Judy Garland: Me and My Shadows
All Critics (2) | Top Critics (1) | Fresh (2) | Rotten (0)
Seldom in a biographical television made-for does a star so expertly inhabit another's skin as Judy Davis does here with Judy Garland.
Judy Davis picks up the role as a young woman (about a quarter of the way in) and delivers a Garland that is both authentic and vibrantly real.
Audience Reviews for Life With Judy Garland: Me and My Shadows
Though it won critical accolades and multiple television awards, this film is truly awful. Most notably, the story doesn't have a discernible structure; Garland's life starts low, then goes up, then down, then up, then I don't even know. It's a roller coaster ride that loops every fifteen minutes, and the film needs a guiding hand to help us understand the significance of what we're watching. Indeed, though the film presents these characters honestly, I don't understand what the filmmakers are saying about these people. Why is their story significant? What can we learn from them? How can these particulars become universal? There is shallow attempt at such a theme in the film's last line, but this comes off as abstract moralizing and is too late to give the film any skeleton. Judy Davis does what contemporary Judy Davis does best: scream and carry on. She doesn't sing, allowing lip synching and some guy backstage with a boombox to do all the work. Overall, this film ends up being moralistic bullshit, and we have to navigate mountains of pointlessness to get there.
Jim Hunter
Super Reviewer
I liked it, but I like anything with and/or about Judy Garland.
Leigh Ryan
Super Reviewer
Wonderful performances from Judy Davis and Tammy Blanchard as older and young Judy make this compelling if sad viewing.
Life With Judy Garland: Me and My Shadows Quotes
There are no approved quotes yet for this movie.