Light From the East
(2006)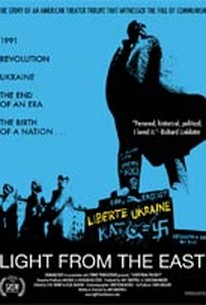 AUDIENCE SCORE
Critic Consensus: No consensus yet.
Movie Info
Summer 1991. Glasnost. Perestroika. The Soviet Union opens its doors to the West. On the other side of the world, a troupe of young actors from the La Mama Theater in New York City gather to participate in the first American/Ukrainian cultural exchange theater project in history. Among the troupe on its way to Ukraine is American actress and filmmaker Amy Grappell, who has brought a cinematographer to document the historic event. The troupe begins to rehearse the play "Light From the East," a drama that explores the life and work of nationally acclaimed Ukrainian theater director Les Kurbas. Despite political resistance, Kurbas and his company had revolutionized the Ukrainian theater of the 1920s by introducing world classics to the Ukrainian stage. His dream of international theater clashed with government ideals and he was assassinated during one of Stalin's purges. As the American troupe prepares for opening night, Gorbachev is kidnapped, the Kremlin is overthrown by a military coup and the entire USSR is plunged into volatile uncertainty. The troupe finds itself trapped at the epicenter of a political revolution. Inspired by the courage of the Ukrainian people who squelch the coup and seize their liberty, the actors remain in Ukraine, determined to put on the show rather than leave, as encouraged by the American Embassy. As rehearsals progress, the action in the streets begins to mirror the play: as Kurbas and his company struggled to make art during the revolution that ushered in communism, the American troupe performs the life of Kurbas as the walls of communism come tumbling down. Between rehearsals, Grappell and her host, Natalia, interview average Ukrainians, who show that the concept of freedom is complex and that after nearly a century of repression, it will take time for most of them to feel "free." Filmed during the massive political change of 1991, Grappell's documentary, LIGHT FROM THE EAST takes viewers through a philosophical inquiry into the meaning of both artistic expression and personal freedom. As the play finishes its run, Ukraine declares its national independence and members of the American troupe face the powerful lesson that freedom comes from within. -- © Official Site
Critic Reviews for Light From the East
Audience Reviews
There are no featured reviews for Light From the East at this time.
Light From the East Quotes
There are no approved quotes yet for this movie.