Linda Linda Linda
(2005)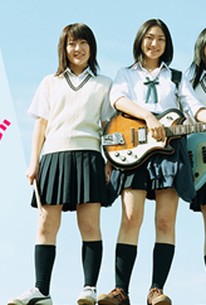 Movie Info
Four schoolgirls put the axiom "the show must go on" to the test in this rock & roll teen comedy drama from Japan. Nozumi (Shiori Sekine) and Kyoto (Aki Maeda) are two friends who attend the same high school and have decided to put together a rock band to play the school's talent show. Things are going well until two days before the show, when the group's lead guitarist quits for fear of breaking her fingernails and the singer walks due to lack of interest. Determined to make a showing one way or another, Nozumi takes over as bass player, Kyoto becomes the group's drummer, and their pal Kei (Yu Kashii) is drafted as lead guitarist, even though keyboards are her first instrument. Needing a singer, the girls literally take on the first likely candidate who crosses their path. However, the new vocalist turns out to be Song (Doona Bae), a Korean exchange student who not only hasn't sang before, but has only the most rudimentary command of Japanese. The girls give themselves the goal of being able to play "Linda Linda Linda," a hit for the Japanese pop-punk band the Blue Hearts, in time for the show, but is there any way Kei and Song can overcome their steep learning curve? Linda Linda Linda received its North American premiere at the 2005 Toronto Film Festival. ~ Mark Deming, Rovi
Critic Reviews for Linda Linda Linda
Audience Reviews for Linda Linda Linda
Linda Linda Linda, from Nobuhiro Yamashita, focuses on friendship to put together a schoolgirl band.
"A music group of girls need to learn to play a song before the school festival." There really isn't a whole lot more to it than that. Spanning nearly two hours, if there is something missing from this picture, it is a little more meat to the plot; however, it is the slow dramatic style that gives this film its success. The tone makes it feel like time spent with the characters, rather than watching them.
Linda Linda Linda is far from a comedy. The humor is subtle, and minimal at that, but effectively used. Like the storytelling, the smiles happen with the characters more than at them.
Bae Du-na gets a lot of credit for this one, delivering both Korean and Japanese lines of dialogue. Kashii Yu, Aki Maeda, and Shiori Sekine round out the other likable band members.
Linda Linda Linda may be mellow, but in the end it is a satisfying sit through.
Sweet Japanese film about four schoolgirls who form a band for the school talent contest. Luckily not as cliched as I'd feared, due to the focus on the girls and their friendship rather than the whole playing in a band thing.
Fun film with good performances from the girls in the band, great soundtrack from James Iha (of the Smashing Pumpkins), a solid script and good direction. In case you haven't heard of Japanese punk band, "The Blue Hearts", the title track is going to stay in your head.
Anthony Valletta
Super Reviewer
Linda Linda Linda Quotes
There are no approved quotes yet for this movie.