Lion
(2016)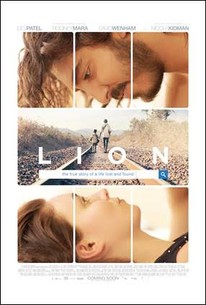 TOMATOMETER
AUDIENCE SCORE
Critic Consensus: Lion's undeniably uplifting story and talented cast make it a moving journey that transcends the typical cliches of its genre.
Movie Info
Five-year-old Saroo gets lost on a train which takes him thousands of Kilometers across India, away from home and family. Saroo must learn to survive alone in Kolkata, before ultimately being adopted by an Australian couple. Twenty-five years later, armed with only a handful of memories, his unwavering determination, and a revolutionary technology known as Google Earth, he sets out to find his lost family and finally return to his first home.
News & Interviews for Lion
Audience Reviews for Lion
After seeing Lion, I don't think I will fail to appreciate Google Earth ever again. I've made it my goal to see every Best Picture nominee before the Academy Awards ceremony (considering it is in two weeks, I doubt that will happen), and this marks the second of the films that I have seen, the first being Arrival. And, after experiencing Lion myself, I can certainly see why it's in the Best Picture pool. Lion tells the story of a young Indian-born man named Saroo, portrayed by Dev Patel, who was separated from his family when he was only five years old, and eventually adopted by a young Australian couple, portrayed by Nicole Kidman and David Wenham. Now, in a movie where two of the actors have Academy Award nominations for their portrayals, I'm obviously going to take a closer look at the acting in it. So it's no surprise that the acting here is exceptional. Dev Patel plays his part as Saroo fantastically, delivering an emotional, engrossing performance that carries most of the film. The actor that plays a young Saroo was also surprisingly good in his role, and does a great job making the audience feel for the kid and his predicament. The young Saroo carries the events of most of the first half of the film, and accomplishes that terrifically. Kidman, Wenham, and several of the other actors in the film do a great job as well, and I would not be surprised if Kidman walks away with an Oscar for her role as Saroo's mother. Now, the story in Lion is something special. We've seen many films about the main character getting separated from their family for their entire, or most of, their life, and these can be cliched, cheesy, or just bad. Here, on the other hand, is something unique that stands out from most stories you've probably heard of. The story is handled well, dedicating a good chunk of the movie to Saroo's time in India before becoming lost, and an even better chunk of time in between the time he is lost and the time he is in his 20's. It builds his character and his relationship with his adoptive family flawlessly, giving the remainder of the film a strong emotional impact. Most of the rest of the film, his search for his biological family, is entertaining, exciting, and engrossing, mixing in other elements of Saroo's life (like his relationship with his girlfriend, portrayed by Rooney Mara) and making the audience develop an uncanny appreciation for the capabilities of Google Earth. With all of that and a very emotional conclusion, Lion proves itself as an effective film. Oh, and I also gotta point out the music in the film. It's late and I don't really know how to smoothly incorporate a transition into this topic since I'm so tired, but the minimalist, violin-and-piano-centered score in the film is goosebump-inducing and great, and something I thought I should mention. Anyways... Lion proves itself as a worthy contender for the Best Picture prize this year. Emotional is the best word I can use to describe it, given that I was shedding many tears at the conclusion of the film. And, of course, don't forget about that appreciation I mentioned for Google Earth. With great acting, an awesome, fact-based story, and some memorable screenplay, Lion receives a hearty 5 stars.
Paul Fuchs
Super Reviewer
Most movies aren't as consistently good as Lion is. With two distinct halves, the first half is about a boy in India getting lost from his family, and the second half is about him trying to find his home again. It shows that a single, minute accident can completely change your life forever; and the beauty of Lion lies in the dynamic of it's simplicity and simultaneous complexity. The characters are so well written and this is even more obvious thanks to the ridiculously good performances from the entire cast. It's been a very long time since a movie has gotten this strong of an emotional reaction from me, and it's thoroughly glorious and emotionally resonating. From the stunning vistas and cinematography, to a soundtrack that fleshes out the story tenfold, to the acting of everyone involved, make for a masterpiece. From the first frame to the last, it's as a beautiful sprawling epic and ties with La La Land as the best film of 2016.
Kevin Mozulay
Super Reviewer
True stories can manipulate you into thinking that the actual story that happened is much more emotional that it actually way or vice versa. When a film chooses to show real footage throughout the end credits, it shows that the filmmakers took their time in casting the right talent ad showcasing the most important moment in their film to compare them. Of all the true stories that have come out this year or have yet to come out, I may just be remembering Lion above them all. Much more powerful than I was expecting it to be and taking very risky moves that most American films would never do, this film is easily near the top of my list for 2016. Here is why Lion is an incredibly powerful story that more people need to see. Boarding a train in his hometown after being left alone by his brother Guddu, young Saroo becomes lost on the streets of Calcutta. Battling his way through the streets in search for his family, he quickly realizes he is too far from home. Becoming adopted by an American family, he travels to live with them for over 25 years. Once he becomes a full grown adult, having a wonderful life with a girlfriend and a family that loves him, he makes it his mission to locate where he used to live as a child. Filled with incredibly moving performances from every cast member, Lion is a fantastic look into this true story that is more than satisfying in its final moments than I excepted. Dev Patel has gone back and forth between generic and quality films. From his performance in the Oscar-winning Slumdog Millionaire, to his brutal presence in The Last Airbender, I can see why certain people may hesitate on seeing his films. Personally, I have enjoyed him in just about everything and this may just be his finest work yet. It should come as no surprise when you see that he is acting with talent lie Nicole Kidman or Rooney Mara, but he really is something to marvel at here. Not only Dev Patel, but Sunny Pawar who portrays the younger version of Saroo is also an incredibly talent young actor. The telling of this story was perfect from beginning to end, without getting to cheesy and the performances sell it tenfold. Having said that, there was one aspect that surprised me more than anything and that was having an American film with more than half of its run time with subtitles. For a film that does take place in foreign countries half of the time, it should come as no surprise that it would have subtitles, but I didn't expect the entire first half of the film to present that. Lion runs about a solid hour in both Hindi and Bengali before switching over to English when Saroo is adopted. This was a risk that I loved and serviced the film in so many positive ways. It only made the film better in my opinion, the fact that they were not trying to make it more generic. The only reason I bring this up, is to warn certain viewers who may not be expecting so many subtitles. That is only a warning for the film, not a flaw. I thought about Lion quite a bit after the screening I attended and I must say, I wouldn't have changed a single moment of this picture. From start to finish, my eyes were full of tears as I gawked at the imagery, beautiful storytelling, fantastic camerawork, and jaw-dropping performance, along with a conclusion that truly took my breath away. To conclude, I can't express my love for this film enough. I don't think Lion is manipulative in any way, nor is it cheesy. It spends just the right amount of time in certain parts of the world and is paced wonderfully. Some people may not quite get enough out of the romantic aspect between Dev Patel and Rooney Mara, but I completely bought into that aspect of this story. Lion is definitely a film that needed to be made and I am disappointed that it is not being talked about as much as other awards contenders. This truly is a superb film. Emotion, score, direction, performances, and a screenplay that is not too far overdone are all aspects that make for a terrific film based on a true story. Every single one of those aspects are present here and I found myself in tears throughout the entire duration. Lion is one of the best films of the year!
Lion Quotes
There are no approved quotes yet for this movie.
Discussion Forum
Discuss Lion on our Movie forum!