Little Caesar
(1931)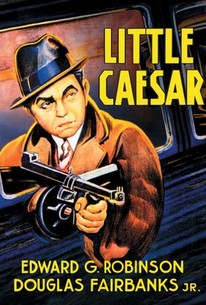 Movie Info
The first "talkie" gangster movie to capture the public's imagination, Mervyn LeRoy's Little Caesar started a cycle of crime-related movies that Warner Bros. rode across the ensuing decade and right into World War II with titles such as All Through the Night (1941). At the start of the picture, Caesar Enrico "Rico" Bandello (Edward G. Robinson, made up to look a lot like the real-life Al Capone) and his friend Joe Massara (Douglas Fairbanks Jr.) are robbing a gas station -- later on, at a diner, they're looking over a newspaper and see a story about Diamond Pete Montana (Ralph Ince), a gangster so well known that he gets headlines and stories written about how powerful he is. That's what Rico wants, more than money or anything else: to be czar of the underworld and "not just another mug." Joe admits that sometimes he just thinks of trying to become what he wanted to be when he started out: a professional dancer. They head east to Chicago (which is never named, but with the talk of the north side and the territories, you know what city it is) and Rico talks his way into the local mob run by Sam Vettori (Stanley Fields). The leader has his doubts over how quick Rico is to go for his gun, but also thinks he might be useful if he is as fearless as he says and can be kept under control. Soon Rico is Sam's top enforcer and bodyguard, but it isn't long before he starts acting like the boss, questioning other members' loyalty and bravery and pushing into Sam's role as leader. He also commands the loyalty of the gang through his resourcefulness at planning and pulling jobs that are tough and risky, and getting away with them; the only exception is Joe, their respectable "front man," who has found romance with an actress (Glenda Farrell) and a career, and wants out of helping the gang. Rico won't let him leave, and pushes him to help them on a brazen New Year's Eve robbery of a restaurant, during which the new crime commissioner is shot dead by Rico. Now the heat is on, but instead of keeping a low profile, Rico seizes control of the gang from Sam and secures his power by ruthlessly rubbing out the only member (William Collier) who seems likely to squeal, gunning the man down on the steps of a church. Before long, Rico is the first among equals among the local mob chieftains, sharing a dais at a dinner honoring him with his nominal boss and one-time idol Diamond Pete. He's also making enemies by the bushel -- Flaherty (Thomas E. Jackson), the cop heading the investigation into the murder of the commissioner, won't let up and makes it his personal business to nail Rico, and the rival chieftains don't like the publicity Rico's getting or the attention it brings to all of them. Rico survives attempts on his life and consolidates his hold on the streets, and is suddenly on the edge of achieving his goal -- the "Big Boy" (Sidney Blackmer), the wealthy social Brahmin who really controls crimes in the city, invites him to a meeting to tell him that Diamond Pete is finished. Rico is going to be in charge of the rackets across the entire city and making sure the local bosses stay in line. He is at the pinnacle of his career, and then Rico overreaches -- he can still be nailed for the murder of the commissioner, and is paranoid enough not to trust Joe, even though Joe helped saved Rico's life and insists that he'll never squeal; Rico also plans on supplanting the Big Boy. His rise to power unravels as fast as it happened, in an outburst of violence that drives him underground. But with an ego as big as his, Rico can't stay hidden for too long, and Flaherty is waiting for him. The violence in Little Caesar may seem tame by today's standards -- although seeing a proper print of the movie, such as the 2005-issued DVD, does restore some of that impact -- but it was shocking at the time, and proved riveting and even seductive, especially because it was tied to a very charismatic performance by Robinson. Between his portrayal and the sounds of pistols and Thompson submachine guns, the movie was a sensory revelation and literalized the violence that had been suggested purely by visuals in such silent gangster classics as Josef Von Sternberg's Underworld (1927), itself yet another telling of a version of Capone's story. The language was also something newly coarse and bracing in movies, at a point when talkies were only a couple of years old. There's also a slightly homoerotic undertone to aspects of the character relationships that managed to get past the censors: Rico doesn't drink and seems uninterested in women; his fixation on Joe Massara, and his seeming competition for Massara's loyalty with the latter's fiancée, are couched in what seem like almost romantic terms; and his feeling of betrayal when Massara says he wants to leave the mob to get married seem almost more appropriate to someone caught in a romantic triangle. This is all made especially vivid when Rico laments not having killed Massara, admitting that he's been undone over "liking a guy too much." It's all nearly as striking as some of the more pointed psychological elements in subsequent gangster movies, including Tony Camonte's incestuous fixation on his own sister in Scarface (1932) and, at the far end of the cycle, Cody Jarrett's mother-fixation in White Heat (1949). ~ Bruce Eder, Rovi
Critic Reviews for Little Caesar
Audience Reviews for Little Caesar
Edward G. Robinson's place in cinematic history was made right here with his career-defining turn as the title character in this celebrated early gangster classic. He plays Caesar Enrico "Little Caesar" Bandello- a small time hood who rises from the lowest level all the way to the top in this tried and true variation on the rags to riches story. He's a little guy with a big attitude and little regard for underworld protocol or having trusted friends and allies. He's a classic antihero if there ever was one. The story is by the numbers, formulaic, and perhaps overdramatized, but this is still an enjoyable and important film, if more underwhelming than I had anticipated. It's a good effort, but not as striking or excellent as Scarface. Robinson does a great job though, and there's some good sequences, and, since it is pretty influential, you should probably give it a watch, espeically if you are a fan of crime dramas.
Chris Weber
Super Reviewer
½
A small time criminal moves to the big city and works his way up to become a criminal kingpin. One of the earliest portrayals of a criminal "dynasty", Little Caesar was also the big break for Edward G. Robinson. The star quality of he and an unusually immobile Douglas Fairbanks Jr. certainly shine through but like The Public Enemy, this is more an interesting period piece than a truly involving story. Like many early talkies, the supporting cast ham it up like they think they are still in silent pictures and many plot points hinge upon overheard conversations as the bad guy explains his plans in explicit detail to a crony. Rico's implausibly meteoric rise is also aided by the fact that he is told that another in the mob heirarchy is "out" with no further explanation of any kind. Many of these so-called "heavies" are also amusingly camp by today's standards to the point where I couldn't help wondering if there was a deliberate homosexual subtext; Rico, Joe and Otero almost seem to be caught in a gay love triangle! Interesting as a snapshot into the birth of the gangster genre but it just doesn't cut it as believable drama in this day and age.
½
A pretty good start at gangster films, but it could have been better.
Little Caesar Quotes
| | |
| --- | --- |
| Rico Bandello: | Mother of mercy, is this the end of Rico? |
| | |
| --- | --- |
| Rico Bandello: | Mother of mercy, is this the end of Rico? |
| | |
| --- | --- |
| Rico Bandello: | Mother Of Mercy, Is This The End Of Rico? |
| Rico Bandello: | Mother of mercy, is this the end of Rico? |
| | |
| --- | --- |
| Rico Bandello: | You didn't quit. Nobody ever quit me. You're still in my gang. You got that? I don't care how many fancy skirts you have hanging on to you. That jane's made a softy out of you. |