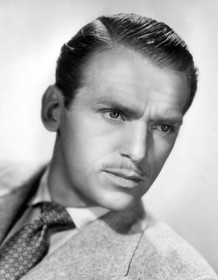 Douglas Fairbanks Jr.
Highest Rated: 100% Flight Commander (1930)
Lowest Rated: 29% Ghost Story (1981)
Birthday: Dec 9, 1909
Birthplace: New York, New York, USA
More voguishly handsome than his father, the Prince of Pickfair Douglas Fairbanks Jr lacked Senior's ability to completely dominate a film and make lackadaisical scripting and monotonous directing almost bearable, but he was certainly an extremely likable and talented actor in his own right. Coaxed into movies by Jesse Lasky, anxious to have the pull of the Fairbanks name, he alienated his father by debuting as a juvenile lead at the age of 13 in "Stephen Steps Out" (1923), causing Senior to remain hostile to his career for many years. On his way to full-fledged stardom, Fairbanks took his turn on the boards in a 1927 production of John Van Druten's "Young Woodley" before practically upstaging the great Greta Garbo with his off-beat riveting performance as her alcoholic brother in "A Woman of Affairs" (1928). He also gave filmgoers a special treat, doing impressions of John Barrymore, John Gilbert and his own father in "Our Modern Maidens" (1929), the picture which brought him and first wife Joan Crawford together.
Skip to Quotes
Filmography
Movies
TV
Credit

No Score Yet

No Score Yet

What's My Line?
Guest

1951

1973-1974

No Score Yet

No Score Yet

Dr. Kildare
Unknown (Guest Star)

1964

No Score Yet

No Score Yet

Route 66
Unknown (Guest Star)

1962

No Score Yet

No Score Yet

I've Got a Secret
Guest

1957-1958

1962

No Score Yet

No Score Yet

Rheingold Theatre
Kurt 'Scarface' Remo (Character),
Producer,
Host,
Narrator

1953-1957