Lo
(2008)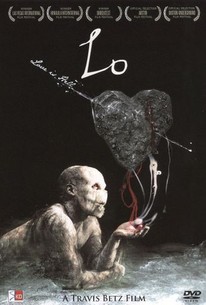 AUDIENCE SCORE
Critic Consensus: No consensus yet.
Movie Info
A cubicle-dwelling loser meets the girl of his dreams, only to find his hope for romance dashed when she's abducted by demons. Corporate shill Justin (Ward Roberts) has never been lucky in love; when he meets April (Sarah Lassez), his worries start to fade. Then, as quickly as April appeared, she's gone. Determined not to let her slip away, Justin begins searching through April's things and discovers a weathered book of incantations. Desperate, Justin summons Lo (Jeremiah Birkett), a mischievous demon with a plan of his own. Now, as Justin tries to negotiate the terms of April's return, Lo attempts to draw the delectable sad-sack out of his protective circle.
Critic Reviews for Lo
All Critics (2) | Fresh (2) | Rotten (0)
There is undeniable charm at work throughout "Lo," which rushes right into a story with minimal fuss and is able to answer all its questions and establish solid enough groundwork for a plausible conclusion in just 80 minutes.
Audience Reviews for Lo
½
7.1/10 "Lo" might just be one of the best horror-comedies you've never heard of. It's an indie effort from writer-and-director Travis Betz, who might just have a successful future ahead of him if what he demonstrated in "Lo" is equal to his overall talent and ambition. It amounts to plenty of fun, and plenty to admire. You can't exactly watch "Lo" expecting the best film ever, but then again, when do you ever do that with a movie? Say you do this from time-to-time. Please, for the love of god, don't do it with "Lo". Don't expect anything amazing. You know what: don't even expect a whole lot. Indie filmmakers can only do so much, and compared to most horror filmmakers, Travis Betz has contributed very little to this genre. So why, oh why, is "Lo" better than the average film for its genre? Perhaps it's because while flawed, the film has wit, ambition, and good intentions galore. Perhaps more attention would garner the cult audience that the film rightfully deserves. Well-made is a term that can't truly apply to this film. The script kind of wings it half of the time. I don't mind it, but sometimes it feels a bit pretentious. But at least the film is aware of it. The story involves a young man as he searches for his lost love in the depths of hell; at the hands of a demon named "Lo" as well as several other entities of the like. His girl was taken from him by a demon, so the man can recall, and he consults the book that she gave to him (for Christmas, I presume). The film isn't so much abundant with story-telling; but more-so story-telling, humor, and creativity. So yes, the pacing is genuinely slow, even for the genre. However, if you can get past this, "Lo" is actually pretty worth-while. I'm not one of them "hipsters" that likes a film just for being indie. I like a film because it's good; and that is why I like "Lo". Some may argue that it is "bland" and "unfunny", but that is strictly seeing it out of one eye. Seeing it from many different angles, I analyzed what Betz did on his low budget, what he accomplished, and how this successful film may influence his body of work to come. The good aspects out-weight the bad. The costume design and make-up isn't the best out there, but it's much, much better than it needed to be. That I'll grant a film such as "Lo". Also, the direction is pretty solid, if you can acknowledge the sheer craftsmanship that went into the production. Dedication and love were both involved too; it's just that some won't care. There are some pretty funny jokes within the film, and then there are some. The jokes can be funny, somewhat funny, or not funny at all; they often range from either of the three. The bad aspects of this film are few, but they should still be mentioned. The film is sometimes inconsistent, and the payoff is just plain disappointing, when you think about it. The film ends on a note that leaves us thinking, "That was it?" Yes, indeed, that was it. That's the end of the road; the last dance. But with that being said, I thought the overall ride was satisfying, and as it turns out, I quite liked "Lo". It's not the best movie out there, it has its flaws, but there's a whole lot of heart, humor, and random musical acts to be found here. I mean, who doesn't want to see someone intent on beating up their verbally abusive hand-cut? No hands shall be raised, because somewhere deep down, we all admittedly want to see that. It's kind of useless to deny it.
Ryan Marshall
Super Reviewer
This is kind of along the lines of the TV show Buffy and Army Of Darkness. Sadly the plot is very predictable at times the dialogue feels tedious. On a good note the make up on Lo is fantastic, it was unnerving. I wish it could have been more, but I couldn't connect with it. I don't feel like I am the target audience for this film, I am sure there are plenty of Flixster users who would thoroughly enjoy this.
Marion Ravenwood
Super Reviewer
Nerdy, lonely Justin meets hot but quirky April in a small cafe and, eventually, they fall madly and deeply in love. Not long afterward a demon appears and drags poor April off to hell. Justin, distraught and heart broken, uses an ancient book of spells to summon his own demon to retrieve her. In a weird, low-budget, community theater sort of way, this was wicked cool!
Randy Tippy
Super Reviewer
Lo Quotes
There are no approved quotes yet for this movie.