Lone Wolf McQuade
(1983)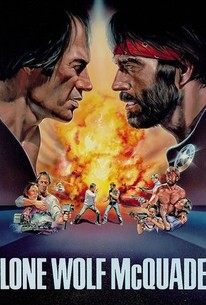 Movie Info
Chuck Norris stars as the title hero, a Texas Ranger in hot pursuit of the arms dealers who kidnapped his partner, his daughter and his dog.
News & Interviews for Lone Wolf McQuade
Critic Reviews for Lone Wolf McQuade
Audience Reviews for Lone Wolf McQuade
½
A classic from back in the day, Chuck Norris was doing lone wolf one-pissed-off-man army roles long before Steven Seagal took the screen in 1987. this time we see Chuck as the original Texas Ranger, juggling his personal life and his dedication to the Rangers... but he's squaring off against the legendary David Carradine, a ruthless gun smuggler and martial arts expert who will kill anyone who interferes with his operations. A cross between Dirty Harry, a few westerns and a comedic element and anger management issues which is used as inspiration for later Seagal movies and for instance, Tango and Cash or Walking Tall, everyone knows Chuck is THE MAN, but as I say, Chuck was making one liners and setting the trends much earlier than later action movies, alongside Stallone and Schwarzenegger. Its Western inspired theme and background is obviously a homage to John Wayne movies and such, Chuck plays a more charismatic and roguish character which everyone loves. The action is very old school, not much special effects here, its very possible a lot of action sequences, such as the stunt of hanging off the back of the pick up even inspired the likes of Jackie Chan who made his infamous umbrella on the bus scene in Police Story 1985. All in all, an enjoyable classic, not much in character quality and development aside from Chuck, but its pure entertainment value, and in my opinion stands as one of the best Chuck Norris, 1980's action movies.
Chuck Norris is excellent as the super-tough lone-wolf Texas Ranger.
Dean McKenna
Super Reviewer