Los ojos de Julia (Julia's Eyes)
(2010)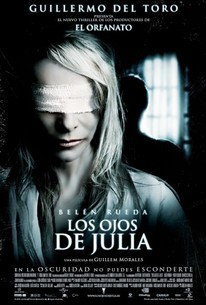 Los ojos de Julia (Julia's Eyes) Photos
Movie Info
A woman is trying to unravel a mystery that she literally can no longer see in this thriller from Spanish filmmaker Guillem Morales. Julia (Bel (C)n Rueda) and her sister, Sara, have both inherited a medical condition that is slowly robbing them of their eyesight, with stress severely aggravating the condition. When Julia gets the news that Sara has died, she has a hard time believing the police report that she committed suicide, and she and her husband, Isaac (Llus Homar), begin looking into the matter. As Julia examines the particulars of Sara's death, she begins to suspect the actions of Sara's neighbor Blasco (Boris Ruiz), his daughter, Lia (Andrea Hermosa), and an aged woman named Soledad (Julia Guti (C)rrez Caba). As Julia becomes more convinced that Sara's neighbors were involved in her death, unpleasant events begin happening all around her, and as she comes closer to unraveling the knots that have tied up Sara's death, Julia inches closer to total blindness. Produced in part by Guillermo del Toro, Los Ojos de Julia (aka Julia's Eyes) was an official selection at the 2010 Toronto International Film Festival. ~ Mark Deming, Rovi
Critic Reviews for Los ojos de Julia (Julia's Eyes)
Audience Reviews for Los ojos de Julia (Julia's Eyes)
The stunning cinematography creates a perfect oppressive atmosphere in this thriller that grows really tense and frightening, but the film is also weakened by poor narrative choices, and if you think in retrospect you will see some plot holes. Besides, the lame last scene is unforgivable.
Carlos Magalhães
Super Reviewer
½
Started off pretty good - I thought, from all the creepy happenings, that this was going to be a ghost story. Then, because of the interesting filming after Julia's operation where the new characters introduced never show their faces, I thought she had lost her mind and was imagining the whole thing. The actuality was less exciting, but it works. Filming and acting is great. I especially liked the end scenes with the flashing camera - very effective. Good creepy movie to watch in the evening!
Nicki Marie
Super Reviewer
A woman suffering from progressive blindness and her husband come to investigate the apparent suicide of her sister, who had the same affliction. There turns out to be much more to the death than it seems on the surface, and more people may end up finding a similar fate unless the mystery can be unraveled. Julia's Eyes gets off to a good start, with an interesting premise and a captivating opening scene. But, most of what follows is not equal to the introduction. Frustrating characters and annoying plot contrivances keep Julia's Eyes from being anything more than an average mystery/thriller that had me almost disinterested during the middle portion. The ending, fortunately, is strong and helped restore some of the good feelings I had about the movie during its beginning. Don't get me wrong, it's a tense movie throughout, thanks to the natural fear of not being able to see the danger around you. And there are plenty of story twists and turns, and not all of them are predictable. But watching characters make dumb, illogical decisions just for the sake of plot progression draws me right out of the atmosphere that's so necessary for an effective thriller. When Julia's Eyes is good, it's very good. It's just unfortunate that parts of it are exercises in pure frustration.
Los ojos de Julia (Julia's Eyes) Quotes
There are no approved quotes yet for this movie.