Donzoko (The Lower Depths)
(1957)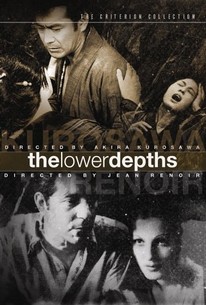 Donzoko (The Lower Depths) Photos
Movie Info
Japanese filmmaker Akira Kurosawa transferred the setting of Maxim Gorky's play The Lower Depths from Imperial Russia to his own country's Edo Period--which, like Gorky's 19th-century setting, was an era of great cultural advances, offset by the miseries of those who weren't in the aristocracy. Kurosawa's film concentrates on Toshiro Mifune, playing a crooked gambler who falls in love with the sister (Kyoko Kagawa) of his cruel landlady (Isuzu Yamada). Herself carrying a torch for Mifune, the landlady exacts a roundabout revenge by killing her own husband and pinning the blame on the gambler. As the landlady descends into madness, those whom she has treated wretchedly laugh at her plight. Originally titled Donzoko, The Lower Depths was renamed Les Bas-Fonds for its French release--the same title bestowed upon Jean Renoir's 1937 adaptation of the Gorky play. ~ Hal Erickson, Rovi
Critic Reviews for Donzoko (The Lower Depths)
All Critics (5) | Top Critics (1) | Fresh (4) | Rotten (1) | DVD (2)
This is the purpose of the picture, to make one suffer and sympathize with them. Kurosawa's darkly imagistic technique achieves this depressing aim.

Bleak comedy about a virtual flophouse in Edo-period Japan based on Gorky's play. Top-flight ensemble performance.
For the first hour and fifteen minutes of the movie, we make only limited excursions out of the tenement, and it begins to feel as though we've moved in ourselves. Kurosawa may have intended this, but it doesn't make for very satisfying viewing.
September 10, 2005 | Rating: 2.5/5
Audience Reviews for Donzoko (The Lower Depths)
At one point the sage in this story, an elderly man who has happened across the denizens of a slum, tells them that they must ask themselves why a young girl has chosen to tell a particular story. And so I think we must ask ourselves why Kurosawa has chosen to tell Gorky's drab story, which is one of squalor and desolation. He says it was a comedy, but I don't believe it. The film was made twelve years after WWII, the aftermath of which had people all over the world horrified at what man was capable of doing to man. Japan has been brought to its knees, reeling after a devastating defeat, and awareness of its atrocities were in an unspoken part of the national consciousness. Existentialism was a natural reaction here and elsewhere. Why be good to others? Is there a god? Why live a conventional life? Why not enjoy getting drunk and living day to day, in the now? To be clear, the poor people living in their hovel at the base of a garbage dump are not there by choice, but these are some of the questions they ask. They all claim to have known better times, and want to get back to them, but there is a sense of doom over all of them. To see their mad, improvisational dancing and singing at the end of the film, you might think they would fit in perfectly with the Beats in America. The sage who appears has no definitive answers, and in fact alludes to his own ribald past, but acts with such gentleness and empathy towards the others that he seems enlightened. Tellingly, he slips away when the action heats up in a jealous love triangle; like Buddha (or Christ, or any other religious teacher), he's provided his teaching, and now it's up to them to apply or ignore it. Unfortunately, there is such dreariness here, and the film feels flat - all of the action takes place in a very confined space, and most of it is consumed with dialog. That could be the point, but it doesn't make for an enjoyable experience. Toshiro Mifune is over-the-top in his role of thief and lady's man, but Isuzu Yamada turns in a good performance as his spurned lover who plots revenge, openly mocking him. Overall, though, I think the story would have better in written form, and I suspect the higher review scores are due more to loyalty to Kurosawa, and his prestige. It's watchable, but don't say I didn't warn you.
Antonius Block
Super Reviewer
Confusing at the beginning, but around the hour mark everything begins to make sense. It's a shame I have not read Maxim Gorky's story that this film is based off of, but I read that it is a faithful adaptation of the original material. This film is very dialogue driven and through language and words, morals and values of society are analyzed. Also very interesting because blunt truth-telling vs sugar coated lying are also explored in this film. Very dark and pessimistic, but also some funny moments between the drunks and layabouts in the film. Overall, it was a very strange and intriguing film, much like Kurosawa's earlier Russian adaptation The Idiot. This film had a unique setting and quirky characters, however, was hard to sit through at times. Competent performances and strong dialogue kept this movie from being rated any lower.
This is part of the criterion collection, a early Black and White from Japan, with English subtitles, Kind of boring at first but as it plays out you can't help but to stay with it, about a houseful of beggars and lower lower class and there daily lives, Its worth 2 stars
Bruce Bruce
Super Reviewer
Donzoko (The Lower Depths) Quotes
There are no approved quotes yet for this movie.