Ma Mere
(2005)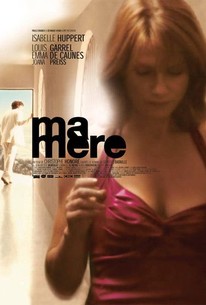 Movie Info
An attractive widow finds her attentions turning to her teenage son in a troubling manner in this drama from France. Pierre (Louis Garrel) is a moody 17-year-old who is spending the summer with his parents at their summer home in the Canary Islands. While Pierre isn't especially close to his father (Philippe Duclos), he enjoys a warm relationship with his mother, Hélène (Isabelle Huppert) -- almost too warm, as her affection for him subtly strains the boundaries of typical familial behavior. When Pierre's father dies unexpectedly in an auto accident, his emotional dependence on Hélène grows, while her desire for her son does the same. Though Pierre finds himself attracted to several girls his own age summering on the island, he finds it increasingly difficult to reconcile his curiosity with the growing sexual tension between mother and son.
Critic Reviews for Ma Mere
Audience Reviews for Ma Mere
½
Despite how flat it seems at first, this French film is so provocative and perverse that I'm afraid a lot of people won't get its point, and I love how it explores the vulnerability of Garrel's character through his constant nudity and overflowing sexual desire.
Carlos Magalhães
Super Reviewer
½
European cinema at its best! Producer Paulo Branco has been producing some of the best films and best directors in Europe and this is one of the latest ones. Absolutely amazing, in depicting obsession, incest, dysfunction, love, selfishness, acceptation, pain... It's particularly brilliant how time and space is (not) presented. The ending is terrific and the perfect conclusion to the story. Absolutely superb, a film I think only French could have the audacity to do... I hope European Cinema gets more protection so that we can keep watching these master pieces, otherwise we'll just have to stay dumb watching the main pop corn stream...
Cassandra Maples
Super Reviewer
½
Pierre is the product of a very unconventional marriage. Both his parents lead promiscuous lives and he spends most of his childhood in a Catholic boarding school. Soon after he returns home, now a young man, his father dies and his mother, undeterred by her husband's death, draws her son into her perverse lifestyle. I'm not sure I'm open-minded enough to fully appreciate Ma Mere. It attempts to titillate by venturing into those dark places where most people feel VERY uncomfortable. If there is a moral to this story it's simply this: "Don't hump your mother". (Frankly, I didn't need an artsy French film to figure that out.)
Randy Tippy
Super Reviewer
Ma Mere Quotes
There are no approved quotes yet for this movie.