Mafioso
(1964)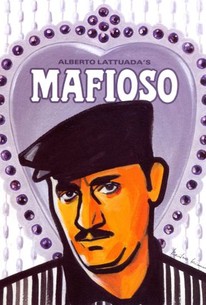 Movie Info
Antonio, a conscientious factory official, takes his wife and children to meet his family in Sicily and finds himself in the favor of local mobster Don Vincenzo. Terrified and conflicted, he tells his family that he is going hunting but instead seeks out an enemy of the mafia in New York.
News & Interviews for Mafioso
Critic Reviews for Mafioso
Audience Reviews for Mafioso
Antonio Badalamenti; factory supervisor, loving husband, devoted father, reluctant hit-man.
Randy Tippy
Super Reviewer
It is surprising and strange to us how the mafia works in Italy, which is shown in this movie, but this movie is exciting and very funny. I enjoyed it.
[font=Century Gothic]In "Mafioso," Antonio Badalamenti(Alberto Sordi) is an efficiency expert about to take his blonde wife Marta(Norma Bengell) and two children to visit his family in Sicily for the first time. But before he can make his escape, his boss Dr. Zanchi(Armando Tine) asks him to deliver a small package to Don Vincenzo(Ugo Attanasio) when he sees him.(While Zanchi is originally from America, his parents are also from Siciliy.) Antonio happily agrees as he rushes home to catch a train that will get them to Sicily by the following morning.[/font] [font=Century Gothic][/font] [font=Century Gothic]While not quite the comedy I was expecting, there is still much to recommend in "Mafioso." Don't get me wrong. There are certainly comedic elements but they are subtly downplayed as the movie barely avoids several stereotypes at once while utilizing a parallel storyline to its best advantage. What is accentuated are the cultural differences between the traditional, laid back Sicily versus the more modern, fast-paced Milan.(I don't have the ear for it but I am sure the dialects are quite different also.) It does not take Antonio long to get used to the slower rhythms of his old hometown but he is shocked by the darkness that infuses the last half hour of the movie. Throughout, he is reminded that most of his old friends are dead, in jail or perpetually unemployed, his university education allowing him to escape this fate. But there are worse things than hanging out at the beach all day.[/font]
Mafioso Quotes
There are no approved quotes yet for this movie.