The Magic Flute
(2006)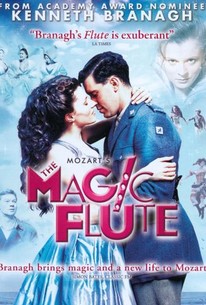 Movie Info
"The Magic Flute" takes place on the eve of World War I and unfolds as a young soldier waiting for the command to go to battle is transported into a twilight world between a dream and nightmare. He is sent on a deadly mission to rescue the daughter of the Queen of the Night from the dark lord Sarastro.
Critic Reviews for The Magic Flute
Audience Reviews for The Magic Flute
In this adaptation of Mozart's classic opera, Tamino is fights for his love in World War I era trenches. Kenneth Brannagh, whose Shakespearean adaptations don't always use the advantages of film, makes up for it in this rendition of Mozart's opera. Visual effects abound in Brannagh's best imitation of Julie Taymor, and while some of them are effective, most of the visual stylings do little to advance the plot even though they're fun to look at. The acting and the singing are the real highlights of this film; many of the actors, particularly Benjamin Jay Davis, are able to satisfy the high demands of opera while focusing their work for the film. Overall, I enjoyed this film even though Brannagh is no Julie Taymor.
Jim Hunter
Super Reviewer
The Magic Flute Quotes
There are no approved quotes yet for this movie.