The Magnificent Butcher
(1998)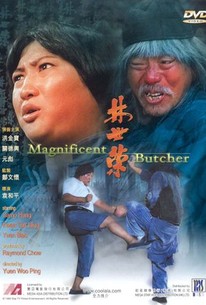 AUDIENCE SCORE
Critic Consensus: No consensus yet.
The Magnificent Butcher Videos
The Magnificent Butcher Photos
Movie Info
Yuen Woo-ping directs this classic of the period kung fu epic. Butcher Wing (Sammo Hung) is the most talented and the most troublesome pupil of Master Wong (Kwan Tak-hing). One day while helping to stop a robbery, Butcher runs afoul of the power, and evil, Master Ko (Lee Hoi-sang), resulting eventually in a duel between Ko and Master Wong. Meanwhile, Butcher's long lost brother Lam Sai-kwong comes to town with his beautiful bride Yuet Mei. Master Ko's son Tai-hoi (Fung Hark-on) hoodwinks the country bumpkin into thinking that Butcher owes him a stack of money, taking Yuet Mei as payment. Just as Sai-kwong is about to take a flying leap off a bridge, he is saved by a wily beggar (Fan Mui-sang) with surprisingly good kung fu ability. Eventually, Sai-kwong, Butcher and the beggar unite to free Yuet Mei from Master Ko's clutches, only to create a whole new set of problems.
Critic Reviews for The Magnificent Butcher
All Critics (1) | Fresh (1) | Rotten (0) | DVD (3)
Not a thoughtful story or meaningful character arc, but viewers who enjoy the grace and exhilaration of a good martial arts battle will find plenty to enjoy.
Audience Reviews for The Magnificent Butcher
Sammo Hung stars in a comedic kung-fu movie which obviously made to capitalize on the success of Drunken Master by featuring homeless drunk kung-fu master (and apparent Taoist folk hero), Beggar So. This wasn't very story-heavy and focused too much on the fighting (which was impressive though ? Sammo Hung is one of favs). The story was basically Sammo Hung's character was wrongly accused of raping and killing a rival master's daughter, so the master and his students try to beat up Hung's character.
D M
One of Sammo's best starring roles. One of my all time favorite kung fu movies. Constant fights in this movie.
Galen Phillips
½
It looks here like they were going for a chop socky look, but apparently their budget was higher and it came out almost hi quality, accompanied by bad acting. Sam the Seed is in it though.
the $cuN>l, bitch
The Magnificent Butcher Quotes
There are no approved quotes yet for this movie.
Discussion Forum
Discuss The Magnificent Butcher on our Movie forum!