Maiko Haaaan!!!
(2007)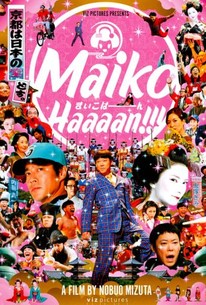 AUDIENCE SCORE
Critic Consensus: No consensus yet.
Movie Info
From director Nibou Mizuta comes this high energy comedy focusing on the story of Kimihiko Onizuka (Sadao Abe), a nerdy businessman that drops his normal place in society in order to indulge in the pleasures of the strip baseball with a Geisha. Things get a bit complicated when a professional baseball player gets in the way of Onizuka's dream, thereby leaving him with the only course of action - to become a legitimate baseball player himself.
Critic Reviews for Maiko Haaaan!!!
All Critics (2) | Top Critics (1) | Fresh (1) | Rotten (1) | DVD (1)
The only thing missing is an anime sequence, but the whole thing's a big cartoon anyway.
Imagine Moe Howard of the Three Stooges as Ace Ventura: Pet Detective, and you might get an inkling of the monotone slapstick filling two long hours of Maiko Haaaan!!!
Audience Reviews for Maiko Haaaan!!!
Hammy, particularly in the early parts. A very strange mix of comedy and more serious parts. Enjoyed it for the beautiful sights of Kyoto and the Maiko and Geisha costumes.
Nicki Marie
Super Reviewer
½
Out of nowhere, director Nobuo Mizuta delivers a comedic film in Maiko haaaan!!!, which is almost along the lines of Kamikaze Girls or Battlefield Baseball.
When it comes down to it, this film is about a man who is obsessed with Geisha. Everything else that happens, which is a lot of things, seems to stem out from this. At one moment it is all about ramen, then the next it is about baseball, and then it is about making movies. By the end of the movie it is about becoming mayor. Talk about being erratic. Yet, the Geisha concept is able to hold the film together in one piece.
The first 2/3rds of the film are highly entertaining. Quirky visuals fill the screen and quick scene transitions, as well humorous dialogue, fill up this portion of the movie. It seems that every movie wants to a have serious dramatic ending and the last 1/3 of this flick feels that way. Fortunately, it doesn't falter that much since the main character's over acting and mushroom hair help to keep some humor going. The movie also begins to pick up again for the last 10 minutes or so.
The acting is quite good. Sadao Abe is just over the top as the lead, but it fits in this film. He may be a little annoying at times, but for the most part you will be laughing at him. Shin'ichi Tsutsumi, known from Hiroyuki Tanaka (Sabu) films, is good as Sadao's rival. The rest of the supporting cast, including Kou Shibasaki and Saori Koide all follow up with good performances.
This really is an entertaining film, and even though it isn't able to keep the comedic energy for the whole 2 hours, it is still worth the watch.
Maiko Haaaan!!! Quotes
There are no approved quotes yet for this movie.