Make Mine Music
(1946)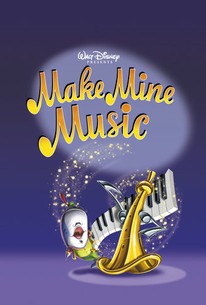 Movie Info
In his first postwar animated feature, Walt Disney attempted to repeat the Fantasia formula, substituting "pop" music for the Classics. Make Mine Music consists of ten unrelated cartoon vignettes, each one featuring a popular recording artist. "A Rustic Ballad" is the story of the Martin-Coy hillbilly feud, narrated musically by the King's Men. "A Tone Poem" is an impressionistic interpretation of the song "Blue Bayou", sung by the Ken Darby chorus and rendered artistically by Disney's ace animators. "A Jazz Interlude", done in "sketchbook" style, is performed by Benny Goodman and His Orchestra, and features the jitterbug specialty "All the Cats Join In". Jerry Colonna is next on the program in "A Musical Recitation", offering his own inimitable version of "Casey at the Bat". "Ballad Ballet" features Ballet Russe stars Tatiana Riabouchinska and David Lichine, dancing to Dinah Shore's vocalization of "Two Silhouettes". "A Fairy Tale with Music" turns out to be Prokofiev's "Peter and the Wolf", narrated by Sterling Holloway. Next, Benny Goodman and company return with a surreal visualization of "After You've Gone", followed by "A Love Story", which features the Andrews Sisters' rendition of the ballad "Johnny Fedora and Alice Blue Bonnet." The hilarious "Opera Pathetique" finale finds Nelson Eddy narrating the story of Willy, "The Whale Who Wanted to Sing at the Met". Better in its individual components than its sum total, Make Mine Music was drubbed by critics, who felt that Disney had abandoned his "artistic" aspirations in favor of crass commercialism, but performed reasonably well at the box office, inspiring several more "omnibus" animated features. In later years, the ten individual segments would be released as separate short subjects, both theatrically and as episodes of Disney's various TV series (where the original narration was often supplanted by the unfunny interpolations of Professor Ludwig Von Drake).
Critic Reviews for Make Mine Music
Audience Reviews for Make Mine Music
½
This uneven post-war animated anthology - the third of Disney's six package films released in the 1940s - feels more like a popular version of Fantasia, with pop music in lieu of the Classics, yet none of the segments is memorable, not even as shorts, much less put together.
Carlos Magalhães
Super Reviewer
½
In reviewing the Disney package films of the 1940s, I've made a conscious effort to praise whatever positive aspects they may have. While all six efforts are considered part of the official Disney canon, they are arguably the most neglected of all the films in which Walt Disney was personally involved. But sadly, such an approach does not get us far with Make Mine Music, perhaps the weakest offering of them all. When reviewing the package films we have to accept that they are going to feel slight and compromised in some way. It's in their very nature, since they are essentially leftovers from the pre-war era, that Disney threw together to keep the brand in the public eye, while buying his animators time to work on Cinderella. But whereas Fun & Fancy Free embraced its modesty and even tried to tune it to its advantage, this film is trying to have its cake and eat it, giving us a film with the attempted scale and grandeur of Fantasia but with none of the storytelling ability, or ambition, or visual skill. While you have to give Disney credit for trying to reassert his company so soon after the war, the creative output here suffers from a huge post-war hangover. Many filmmakers who had worked on wartime propaganda experienced something of this sort; Powell and Pressburger's A Canterbury Tale has one foot in their great work of the late-1940s, but the other in their ropey earlier work for the British government. The animation here is more bouncy and rubbery than before, with Casey at the Bat exhibiting the same exaggerated physicality of The Fuhrer's Face, occasionally tipping over into Warner Brothers or Tex Avery territory. Being essentially a compilation of short stories, it makes sense to address the merits and shortcomings of each in turn. But in a nutshell, Make Mine Music is a medley of promising moments let down by shoddy orchestration. All ten segments have interesting little moments or ideas, but the vast majority of them come a cropper, through either the source material in and of itself, inappropriate changes to said source material, or the more exaggerated style of animation. We begin with The Martins and the Coys, based on the real-life Hatfield-McCoy feud of the 19th century. The King's Men relay a Romeo and Juliet-style story of two feuding families, who all-but-wipe each other out before the two survivors fall in love - only for them to fight again once they are married. Visually this section is very Warner Brothers, with the scenes of gunfire and creeping around immediately bringing Elmer Fudd to mind. This section was famously removed from subsequent American releases, after the MPAA deemed the gunfire was too intense for children. But what's far more questionable than either that or the redneck stereotyping is the playing of domestic violence (particularly against women) for comic effect. It's every bit as unfunny and uncomfortable as the 'Say It With A Slap' number in Fun & Fancy Free. Blue Bayou is an innocuous antidote to this, drawing a sombre and wistful veil over proceedings. This section was originally intended for Fantasia, with the same animation being backed by Claude Debussy's celebrated Clair de Lune. Because of this the animation is smoother and softer, and there is a nice choice of deep colours offset by the white birds flying over the lake. But while the musical choice is still perfectly decent, this part of the film goes on far too long, taking what should be a short, sweet interlude and allowing it to overstay its welcome. All The Cats Join In up the tempo again, with melancholy ballads giving way to the joyous jazz and swing of Benny Goodman. Musically this is one of the strongest parts, with good orchestration and a catchy rhythm which underpins the action. The animation, however, is something of a mixed bag. Technically, this section was ground-breaking for its time, with an in-shot pencil animating the action in real-time and creating a host of interesting settings and obstacles for the dancers. Aesthetically, however, the animation feels pale and rushed, so that the result looks less like Disney and more like an Archie comic. Without You is another ballad, this time about a lost love and the anguish felt by the man in the relationship. As with Blue Bayou, the animation is quite fitting, with deep blues and purples to compliment the reds and pinks used in the flowers and sunsets. But while the animation is pretty, the content of this section is rather clichéd: we get very standard images of a weeping willow, letters in the rain and lonely stars. Andy Russell is a reasonable singer, but the song is not memorable beyond its unusual and often grating chord changes. Casey at the Bat returns to the bouncier, more exaggerated style of animation. Jerry Colonna does a good job reciting Ernest Thayer's poem, about an arrogant baseball player who gets his comeuppance in a close-fought match. But his work is spoiled by just how broadly each act in the poem is represented. The characters look stretched and grotesque, like someone had photographed each cel through a wide-angle lens. And while the incidental music is fitting, the addition of sung sections around Casey only serves to pad out the action and make the character more repulsively obnoxious than he needs to be. Two Silhouettes features two professional ballerinas dancing in shadow over an animated landscape, accompanied by Dinah Shore, who narrated the Bongo segment of Fun & Fancy Free. It's a perfectly charming little interlude, with the animators making the most of the live-action dancing and putting the animated characters around the dancers. On a visual level it's not that far from the magical worlds Powell and Pressburger depicted in The Red Shoes two years later. While ultimately slight, and overlong, it passes the time pretty nicely. Peter and the Wolf is perhaps the best-known segment of Make Mine Music. Certainly it has the most prestigious source (a 1936 work by composer Sergei Prokofiev), though that it by no means a guarantee of quality. Sterling Holloway, best known for voicing Winnie the Pooh, narrates the story of a young pioneer called Peter, who defies his bossy grandfather and heads off into the nearby woods to catch a wolf. It's an interesting piece, both as an animated short and as a forerunner to Sleeping Beauty, which was also set to classical music. But it suffers from the increasing liberties taken by Disney. Some can be overlooked - the naming of the animal characters - but others are a case of convention coming out over common sense, such as the actual fate of Sonia the duck. After You've Gone brings us back to Benny Goodman and attempts to break things up with something light and jolly. The piece begins like 'Hit The Big Boss For A Raise' from Dumbo, but for all the imagery Disney throws as us it doesn't have the same shape-shifting magic at the Pink Elephants in that film. This section most supports the view that the package films should be seen as demo reels - as a rapid-fire indication of what Disney could do with more time and resources. But while that might work as something to show investors, as a piece in and of itself it's underdeveloped and adds very little. Johnny Fedora and Alice Blue Bonnet gives us some kind of narrative, albeit one which is very simple and resolved entirely by chance. The story of two personified hats, separated and reunited, is the kind of material that PIXAR would have a field with in one of its own shorts. The animation of the hats is akin to the kind of animation John Lasseter would employ on Cars, giving inanimate objects faces and using their physical forms to shape their personality. While not a great piece of work, it should please younger viewers who are used to PIXAR. The film closes out with the longest section, entitled The Whale Who Wanted to Sing at the Met. It's a bittersweet tale about a singing whale, which pokes fun at the heightened sensibilities of opera by having its lead be literally larger than life. Sadly, however, the conceit outstays its welcome and the novelty of the singing whale quickly wears off. The story reduces itself to a montage of opera after opera, and then throws in a mawkish ending in an ill-judged attempt to add weight. Make Mine Music is a collection of interesting or inspiring moments which ultimately amounts to far too little as a collective piece. Every section has something of interest which may keep younger views amused for a short while, but unlike Fantasia there is no real depth to the film, nor a big enough attempt at an overarching narrative to join all the pieces together. Ultimately it's a fleeting and forgettable work, which promises little and still manages to disappoint.
Daniel Mumby
Super Reviewer
½
Number 3 of the compilation era The animation here is pretty good. The shorts are cute but unfortunately forgettable. The music at times boring. So far this is noticeably a weak era for Disney. Next up: Mickey Mouse the Movie (Sort of)
DOCTOR PRIME
Super Reviewer