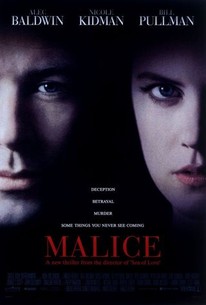 Malice
1993, Mystery & thriller/Crime, 1h 47m
30 Reviews
10,000+ Ratings
Rate And Review
Movie Info
Suburban Boston professional couple Andy (Bill Pullman) and Tracy (Nicole Kidman) become entangled with cocky trauma surgeon Dr. Jed Hill (Alec Baldwin), an old classmate of Andy's whom they invite to become their tenant in the large Victorian home they're renovating. Things become even more tangled when college dean Andy becomes implicated in a campus serial rape investigation and Jed performs an emergency surgery on Tracy with unforeseen complications that disrupt all their lives.
Audience Reviews for Malice
These kinds of thrillers require a tolerance for red herrings and twists that get progressively more ludicrous as they go on but at about the halfway point this movie takes a series of hard left turns so crazy you almost admire it.

Quite dumb. This was the Alec Baldwin that was out there before he got older and actually made an effort to act. This is the young one that you hated. Remember? The annoying personality would always leak into any character that he portrayed at that time.

(1993 Director: Harold Becker) Nice plot twists...Amazing performance by Nicole Kidman. (more review to follow)

Alec Baldwin stars in this thriller as Dr. Jed Hill, a brilliant young trauma specialist who begins to believe he can do no wrong after he saves the life of a patient given up for dead by another doctor. Jed runs into an old classmate, Andy Safian (Bill Pullman), who is now a college dean. Andy invites Jed to stay with him in the attic bedroom of a house he is renovating with his wife Tracy (Nicole Kidman). Tracy takes a dislike to Jed, whom she thinks is a psychotic egomaniac. In the mean time, Andy has to deal with a serial killer on the loose among the campus dorms. While Andy is helping belligerent law enforcement officials with the murder investigation and Jed is drinking straight shots at the local saloon, Tracy begins to have abdominal pains and is rushed to the emergency room. Jed comes directly from the bar and slices her open, removing more from her body cavity than he should. The allegations fly fast and furious between Tracy, Andy, and Jed.
See Details