Jimmy Carter Man From Plains
(2007)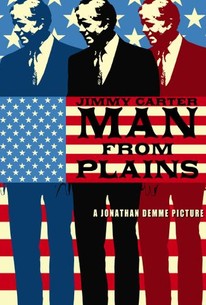 Jimmy Carter Man From Plains Photos
Movie Info
Former President Jimmy Carter embarks on a book tour of his non-fiction book "Palestine: Peace Not Apartheid" and speaks at various books signings about how peace can be achieved in the Middle East.
News & Interviews for Jimmy Carter Man From Plains
Critic Reviews for Jimmy Carter Man From Plains
Audience Reviews for Jimmy Carter Man From Plains
Jonathan Demme's excellent documentary of Jimmy Carter's struggle to balance on the razor's edge between equal advocacy for both Palestinian liberation and for Israel's right to a peaceful existence. In addition to being "accused of being a liar, bigot, and anti-Semite" -- as if that wasn't enough of a challenge -- he's also accused of being a plagiarist with Palestine: Peace Not Apartheid, his book that generated all this controversy two years ago. An incredible story about an incredible man.
Lanning : )
Super Reviewer
½
[font=Century Gothic]Directed by Jonathan Demme, "Jimmy Carter Man from Plains" is a mostly verite(there is also some archival material included) and overlong documentary about Jimmy Carter on a recent acrimonious book tour promoting his book "Palestine Peace not Apartheid."(It should be noted that he is not the only person to make this same connection. For example, Naomi Klein does in her book "The Shock Doctrine" on page 559.) Carter intended to provoke discussion by using the loaded word of Apartheid but instead started a prolonged shouting match between two antagonistic sides, providing more insight into the rest of us than its intended subject who comes off as a genuine man of peace and voice for the Palestinian people. While denouncing violence from both Israel and Palestine, Carter saves most of his ire for the security wall that cuts into the occupied West Bank. Detractors including Alan Dershowitz get their say and Tavis Smiley of PBS provides the best analysis of Carter who also helps to build homes for Habitat for Humanity. Plus, he is in better shape than I am! [/font]
The best documentary I've seen in ages from one of the most brillant,humane,and principled men ever to occupy the oval office of the United States Presidency.
Mister Caple
Super Reviewer
Jimmy Carter Man From Plains Quotes
There are no approved quotes yet for this movie.