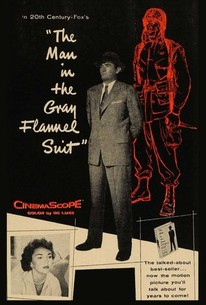 The Man in the Gray Flannel Suit
1956, Drama, 2h 33m
14 Reviews
1,000+ Ratings
Where to watch
Rent/buy
Rent/buy
Rent/buy
Rate And Review
The Man in the Gray Flannel Suit Photos
Movie Info
Tom Rath (Gregory Peck) is a suburban father and husband haunted by his memories of World War II, including a wartime romance with Italian village girl Maria (Marisa Pavan), which resulted in an illegitimate son he's never seen. Pressed by his unhappy wife (Jennifer Jones) to get a higher-paying job, Rath goes to work as a public relations man for television network president Ralph Hopkins (Fredric March). Drawn into poisonous office politics, Tom finds he must choose his career or his family.
Audience Reviews for The Man in the Gray Flannel Suit
High toned soaper that does interesting stuff, especially involving post-traumatic stress syndrome. A vet returns to civilian life and is comfortable more or less, only his wife (cast as sort of a villianess: Jennifer Jones in an excellent portrayal) wants more, "... a bigger house, more money, some status wouldn't hurt, and why aren't you going out to get all that for us??? Maybe its cause you lost yer balls in the war!" Ouch! There's a couple of side plots as well; the romance in Italy with the other woman, the boss who sacrifices everything for the company and wants Peck to do as well, which are not bad. The overall treatment of the characters and the subject keeps everything from parody.

Poor ol' Atticus Finch had made it to color from black-and-white, and yet, his suit was still gray. Granted, "To Kill a Mockingbird" came out quite a bit after this film, but either way, the fact of the matter is Peck never got to escape that dreaded gray flannel. Well, at least he's not as bad trapped by a role as DeForest Kelley, who may have only had a bit part in this film, yet there's no way you can't look at him as an army medic and not scream in your head, "McCoy!" As if that's not bad enough, one of his only lines was, "This man's dead, Captain", so they may as well have just had the line be, "He's dead, Jim", and there's not even a person in the cast named Jim, which is weird, considering that everyone and their grandmothers were named James back then. Does anyone else love how I keep referencing things that came out well "after" this film as the roots of typecasts. Wow, this film didn't even make it a decade before it started to get dated to where you started seeing links to the relatively contemporary, so of course this film doesn't make it into the new world spotlessly. Well, luckily, it's still a good film, regardless of what time you're watching it in, and yet, even if the dated aspects were legitimate marks against the film on a general level, they would still remain among the least of the film's problems. The story has more branches than a rainforest tree, and each one is promising, yet when it comes down to execution, the formula hurts the film about as much as it juices it, as the story structure and telling is hardly tight. There's a very large chunk early on in the film that deals with Peck's Tom Rath character having flashbacks of his time in WWII, with particular emphasis on a love affair that he had in Italy, and while that plot segment feels really crowbarred into the midst of the main story of a veteran Raph looking for work for the sake of his family, you're expecting them to come back and work on the war plot here and there throughout the film. In actuality, they just drop it on the spot, after spending way too much time and effort focusing on it over the main plot and while the film's unevenness rarely gets that severe, the fact of the matter is that the film will not simply spend too much time focusing on the branches of its story, with Fredric March even having a rather prominent, late-to-arrive subplot that's almost entirely irrelevant to the central Rath storyline, thus leaving the film uneven in focus, taking too long to tell the subplots, alone. To make matters worse, some of the various branches are quite different in dramatic tone than others, a fact made clear by the unevenness of the story focus. After a while, we grow too used to what tone is presented for too long, thus making the eventual tonal shifts jarring and the story as tonally uneven as structurally uneven. The project is with a strong premise and promising formula, yet both the storytelling and editing is so loose that the film is rendered too uneven to really lock you in all that thoroughly. However, on the whole, the film hits more than it misses when it comes to executing the promising premise, maybe not to where it really knocks you out, but certainly to where it rewards, particularly when it comes to sweep. Now, this isn't quite a David Lean film, where plenty of things are bigger than they probably should be, as the film, even with its two-and-a-half hour runtime and grand story, doesn't stand as all that much of an epic. Still, it has occasions in which it does, in fact, incorporate epic sweep and recieves fine results, particularly during the, of course, incredibly brief, but still fairly nifty war sequences, which are grand and well-produced to make for some intense set pieces and supplements to the atmosphere. Again, Nunnally Johnson's structure and execution of the story is messy, so much so that it really takes a bit of life out of it and leaves its drama to lose some juice, yet never to where the film's intrigue runs dry. Certain dramatic moments are more impacting than others, yet on the whole Johnson manages to really draw from the atmosphere and intrigue of the story with a confidence and audacity that was impressive at the time, and remains engaging to this day, making for dramatic depth that really keeps this film going through all of its missteps. Still, Johnson is not the only person to thank for the film's engagement value, as credit also goes out to the performers, some of whom are better than others, yet almost all of whom impress to a certain degree, with the exception of the simply unbearable kids who are unpalatably obnoxious, and it doesn't help that they're written to have every despicable non-sense trait found in little brats. Outside of them, this the grown ups' show, and they don't let you forget it, with Greg Peck, in particular, really stepping up. Peck is as charismatic as he always was, yet incorporates some of that good old fashion subtle, yet touching emotional resonance that really defines the depth within the Tom Rath character and, by extension, the film itself, standing among the key aspects that really bring to life the compelling story, which may still be very much a mess, yet ultimately satisfies and makes for an ultimately worthy watch. Overall, the film's focus is wildly uneven, picking up and dropping subplots - some of which are inconsistent in tone with other story branches within he film - left and right, thus drying the juice within the resonance and leaving the film periodically disengaging, as well as generally quite improvable, though rarely, if ever improvable from underwhelming, as the film is at least consistent in keeping what steam it does have in it pumping strongly, supported by the occasional bit of gripping sweep to compliment Nunnally Johnson's generally inspired emotional resonance, though not quite as much as the mostly strong performances, particularly that of a charismatic and compelling Gregory Peck who helps in making "The Man in the Gray Flannel Suit" an ultimately generally engrossing dramatic effort. 3/5 - Good

There are a lot of good actors in this movie, and the story is realistic, but it's so realistic that it's boring and uninteresting most of the time. It's okay, but it could have been a lot better.

The film takes a serious look at how difficult it was for men to return to ordinary everyday life after the horror of the war. Gregory Peck accepts a new job with increased pay but added stress after much nagging from his wife who has big plans for their future. He is further tested when he realizes that an affair that took place during the war resulted in the birth of an illegitimate child. He is faced with the moral dilemma of telling his wife or hiding his indiscretion, which would ultimately wind up affecting his marriage. He wants to do the right thing, as the child is living in poverty. Ultimately the film enunciates the moral and emotional importance of honesty and its consequences. It's the writing and the messages of this film that stand out!! . I think the term"gray flannel suit" refer to corporate America where materialism was the order of the day.
See Details