Mandela: Long Walk to Freedom
(2013)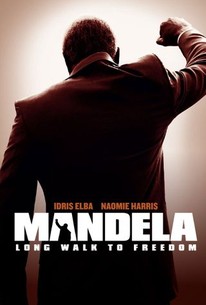 TOMATOMETER
AUDIENCE SCORE
Critic Consensus: It might be too respectful to truly soar, but there's no denying Idris Elba's impressive work in Mandela: Long Walk to Freedom -- or the inspirational power of the life it depicts.
Mandela: Long Walk to Freedom Videos
Mandela: Long Walk to Freedom Photos
Movie Info
MANDELA: LONG WALK TO FREEDOM is based on South African President Nelson Mandela's autobiography of the same name, which chronicles his early life, coming of age, education and 27 years in prison before becoming President and working to rebuild the country's once segregated society. Idris Elba (PROMETHEUS) stars as Nelson Mandela with Justin Chadwick (THE OTHER BOLEYN GIRL) directing. (c) Weinstein
News & Interviews for Mandela: Long Walk to Freedom
Critic Reviews for Mandela: Long Walk to Freedom
Audience Reviews for Mandela: Long Walk to Freedom
MisterYoda ?
Super Reviewer
A deeply moving, very emotional and extremely powerful motion picture. An unforgettable and extraordinary movie that is packed with great character development, passion, heart and emotion all in a thrilling true story. It's a bold and unapologetic history lesson that digs deep and shows us things we were not aware of and make you respect Mandela more, and see more of his inner and political struggle. Idris Elba is absolutely magnificent, he gives one of the best performances of his career and truly one of the best performances by a male lead in 2013. Naomie Harris gives a remarkable and riveting performance, she truly shines in this role. Harris and Elba give fantastic dedication to their roles. A breathtaking triumph. A movie that is gorgeously crafted and also shakes and moves you.
It is an ideal for which I am prepared to die. Very Good Film! A powerful movie, that shows a man more passionate about equality and human rights than his own well being, and sadly at the detriment of his own family. This is a balanced portrayal of multi-layered characters. Mandela is represented with great respect but he is not offered to us as a saint. He treats his first wife unkindly and his support for violence is not disguised. The film really impresses with its representation of Winnie, a woman who suffered so much, hated so much, and herself caused so much injustice. Mandela is now dead but his great project - the creation of a peaceful and prosperous multiracial nation - is still a work in progress. This biographical film of Mandela's life, which premiered on the day he died, has undeniable good points and bad points, and sometimes they are the same thing. Its main problem is one which is common with this sort of movie: it is so aware that it is telling an important story that it sometimes forgets that it is supposed to engage its audience at the same time: it is earnest and worthy, but not always entertaining. Idris Elba does a good Mandela voice and conveys charisma, particularly as the young and vital Mandela: he is perhaps a little too physically imposing. Naomie Harris was Winnie Mandela is stunningly good. Mandela: Long Walk to Freedom is a solidly made, but safe film. There are excellent moments in the second half of the film as South Africa implodes with violence, but it is a very safe film that tries to fit too much in its running time. It is a film that can easily appeal to a middle -aged, mainstream audience. Nelson Mandela is a South African lawyer who joins the African National Congress in the 1940s when the law under the Apartheid system's brutal tyranny proves useless for his people. Forced to abandon peaceful protest for armed resistance after the Sharpeville Massacre, Mandela pays the price when he and his comrades are sentenced to life imprisonment for treason while his wife, Winnie, is abused by the authorities herself. Over the decades in chains, Mandela's spirit is unbowed as his struggle goes on in and beyond his captivity to become an international cause. However, as Winnie's determination hardens over the years into a violent ruthlessness, Nelson's own stature rises until he becomes the renowned leader of his movement. That status would be put to the test as his release nears and a way must be found to win a peaceful victory that will leave his country, and all its peoples, unstained.
Mandela: Long Walk to Freedom Quotes
| | |
| --- | --- |
| Nelson Mandela: | People learn to hate. They are taught to love, for love comes more naturally to the human heart. |
Discussion Forum
Discuss Mandela: Long Walk to Freedom on our Movie forum!