Marlowe
(1969)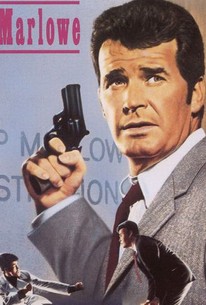 Movie Info
James Garner is so good as Raymond Chandler's philosophical gumshoe Philip Marlowe that you forget he's totally wrong for the part. Based on Chandler's The Little Sister, Marlowe involves the detective's efforts to locate the missing brother of Orfamay Quest (Sharon Farrell). He follows the clues to two men who deny any knowledge of the brother's existence. Since both men soon find themselves on the wrong end of an ice pick, Marlowe deduces that there's more to this caper than a mere missing-person case. The plot thickens as more "dramatis personae" are added to the intrigues, including TV star Gayle Hunnicutt, Hunnicutt's gangster boyfriend H.M. Wynant and stripper Rita Moreno. A pre-stardom Bruce Lee shows up as a karate-happy thug who lays waste to Marlowe's office shortly before suffering a spectacular demise. It is preferable to view Marlowe in videocassette or theatrical form; the commercial TV print cuts so much out that viewers are left with virtually nothing but protection leader and a few close-ups of James Garner.
Critic Reviews for Marlowe
All Critics (7) | Top Critics (1) | Fresh (5) | Rotten (2)
enjoyable as a period piece, letting us see an older character in a then-modern setting
Garner's not the best Marlowe, but he's far from the worst - which also applies to this movie.
March 31, 2006 | Rating: 4/5
Audience Reviews for Marlowe
½
Very enjoyable mystery with Garner terrific in the lead, The film definitely has shades of Jim Rockford looking back at it now.
James Garner is LA private detective Marlowe who is hired by a young girl to find her missing brother. What starts as a simple job turns into a mystery involving a high profile Hollywood actress, a ruthless gangster, cops, strippers, and one questionable doctor. Garner is very smooth as Marlowe. The standouts in this film include a wow striptease and incredible performance by Rita Moreno, who is smoking hot and a face off between Marlowe and Bruce Lee in his film debut. Enjoyable enough. -------------------------------------------------------------------------------- Dolores Gonzáles: [responding, mid-striptease, to Philip Marlowe's question] The streets are paved with forgotten husbands!
monty hawes
Super Reviewer
Marlowe Quotes
There are no approved quotes yet for this movie.