The Matrix Revolutions
(2003)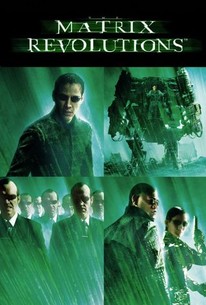 The Matrix Revolutions Photos
Movie Info
Shot back-to-back with The Matrix Reloaded, the third and final installment of Andy Wachowski and Larry Wachowski's sci-fi action saga picks up where the second film left off. Neo (Keanu Reeves) remains unconscious in the real world, caught in a mysterious subway station that lies between the machine world and the Matrix, and Bane (Ian Bliss) is still a conduit for Agent Smith (Hugo Weaving), who continues to grow out of control, threatening to destroy both worlds. Meanwhile, as the sentinels get closer and closer to Zion, the citizens of the earth's last inhabited city prepare for the inevitable onslaught. By bargaining with The Merovingian (Lambert Wilson), Trinity (Carrie-Anne Moss) and Morpheus (Laurence Fishburne) are able to free Neo who, after meeting with The Oracle (Mary Alice stepping in for the late Gloria Foster), decides that he must leave Zion and head for the machine mainframe. As Neo and Trinity venture into the dangerous machine world, with hopes of stopping both the machines and Agent Smith, their comrades in Zion attempt to fight off the attacking sentinels with the odds stacked greatly against them. Other cast members returning include Monica Bellucci, Ngai Sing, and Harold Perrineau Jr. ~ Matthew Tobey, Rovi
People Who Like this movie also like
News & Interviews for The Matrix Revolutions
Critic Reviews for The Matrix Revolutions
Audience Reviews for The Matrix Revolutions
½
A frustrating conclusion that got way too convoluted by this point and is unable to bring the intelligent ideas proposed in the first two movies into something consistent, leaving too much unanswered and becoming only messier and more confusing with every new information.
Carlos Magalhães
Super Reviewer
½
Another installment of standard matrix stuff with cool special effects.
Agent Smith's reach has extended into the real world threatening Neo's attempt to end the war as the machine offensive breaches the gates of Zion. The disappointment felt upon the release of the rather self indulgent and empty Matrix Reloaded caused a real backlash against the Wachowskis, and Revolutions garnered a similarly lukewarm reception. But for me, shifting the action to the "real" world meant less reliance on endless stop motion fight sequences and freshened things up immensely. The visuals are truly spectacular, even by today's standards meaning Revolutions is easily the best looking of the three films and it has a more epic scope that reminded me of the last battle sequences of Return Of The Jedi done in the style of Aliens, and for a sci-fi nerd that's the ultimate combination! The Wachowski's strengths always lied in concepts and visual effects so Revolutions is a much more satisfying cocktail than the clunky wordiness of Reloaded making for a truly jaw dropping thrill ride; the attack on Zion's docking platform is one of the best action sequences I've ever seen and it's a far more satisfying package than the lumbering CGI jerk off that was Avatar. If they'd only trimmed the superfluous flab off the story and made it two films instead of three, I think a worthy sequel would have emerged. That aside, Revolutions is still a highly under-rated finale and well worth a second look.
The Matrix Revolutions Quotes
| | |
| --- | --- |
| Trinity: | Neo! It's Bane! He's psychotic! |
| | |
| --- | --- |
| The Oracle: | What did you with Sati? |
| Agent Smith: | Cookies needs love like everything does. |
| The Oracle: | You are a bastard. |
| Agent Smith: | You would know, Mom. |
| | |
| --- | --- |
| Sati: | The Oracle told me about you. |
| Agent Smith: | Really? What did she said about me? |
| Sati: | That you are a bad man. |
| Agent Smith: | Oh, I'm not so bad, once you get to know me. |
| | |
| --- | --- |
| Agent Smith: | Well, well, it's been a long time. I remember chasing you is like chasing a ghost. |
Discussion Forum
Discuss The Matrix Revolutions on our Movie forum!