Max and the Junkmen
(2012)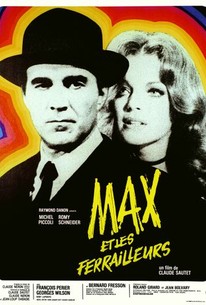 AUDIENCE SCORE
Critic Consensus: No consensus yet.
Max and the Junkmen Photos
Movie Info
Claude Sautet's elegant and sophisticated crime drama stars the great Michel Piccoli as Max, a Paris detective hellbent on justice at any cost after watching one too many wily criminals slip through his fingers. Following a chance encounter with Abel (Bernard Fresson), an Army buddy now working as a scrap collector (most of whose "scrap" just happens to be stolen), Max decides to lure Abel and his gang into committing a bank robbery ... so that he can then catch them red-handed. So Max poses as a wealthy banker and begins a series of illicit rendezvous with the high-class prostitute Lily (Romy Schneider), who happens to be Abel's girlfriend, carefully dropping hints about a bank that's just waiting to be knocked over. But there's one thing the cold-hearted Max doesn't factor into his diabolical scheme: the possibility of falling in love. -- (C) Official Site
Critic Reviews for Max and the Junkmen
All Critics (3) | Top Critics (2) | Fresh (3) | Rotten (0)
Has the matter-of-fact look and careful pace of a precinct-house procedural.
August 9, 2012 | Rating: 4/5

The deep cynicism would be depressing if it weren't so riveting.
Regarding Michel Piccoli's Max, Claude Sautet's film resists judgment, neither condoning nor signposting the despicable nature of his choices.
Audience Reviews for Max and the Junkmen
½
Max(Michel Piccoli), a police inspector, is angry that he is too late to prevent another lethal bank robbery. Not only that but that his pet informant may have been less than reliable. And then said informant turns up dead. The trail is not entirely cold as Max has a lead that turns out to be Abel(Bernard Fresson), an old army buddy down on his luck who steals cars and scrap with a motley gang of fellow criminals on the outskirts of Paris. All of which Max confirms with Rosinsky(Francois Perier), the local police inspector. So, Max hatches a plan to lure the gang into a bank robbery in order for them to be caught in the act in order to restore his prestige in the department. His first step is to approach Lily(Romy Schneider), a prostitute and Abel's lover. "Max and the Junkmen" is a compelling movie that moves at its own idiosyncratic rhythm. At the same time, its deliberate pace does allow for suspense to build nicely towards the film's climax. In fact, it is a rather deceptive movie in that it is something of a reverse caper. Consumed by his obsession to catch criminals, not prevent crime, Max acts like a criminal, not by planting evidence or something similar. He is running a long con by making the mark think they are making the decisions when in fact he is pulling all of the strings. In its own topsy turvy way, the movie does not side with its police protagonist but with the gang who only seem dangerous to themselves. This is in a world where most of the characters have military experience in colonial wars.
½
Claude Sautet is mainly known for Film Noirs in his early career (Classe tous risque) and the more human dramas he became associated with from the late sixties onwards (Les Choses de la Vie). Max et les Ferrailleurs mixes the crime elements of Sautet's Noirs with his later works, and creates an above average and mostly enjoyable film. The story itself takes awhile to get going, the first 30 minutes is basically setting up the story and could come from any routine crime film of the seventies. Once Romy Schneider enters the picture however things start to pick up. Schneider and Piccoli really play off each other well, and as another review here says the best scenes in the film are the ones where they are simply sitting having conversations together. All this leads up to a nice little twist at the end. Worth watching if you can come across it.
Max and the Junkmen Quotes
There are no approved quotes yet for this movie.