McQ
(1974)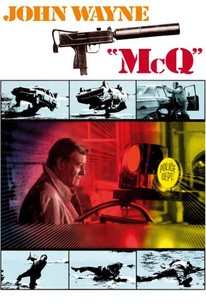 Movie Info
In this adventure film, a veteran detective is officially denied the opportunity of clearing the name of his late best friend who has been posthumously accused of drug pushing. Investigating on his own, he becomes romantically involved with his friend's widow, who is up to her neck in police corruption.
Audience Reviews for McQ
½
Not a great movie but a pretty good one. The Duke is too old for his part, he was much better served by the following years Brannigan, but he gruffs his way through. The story is standard and not too difficult to figure out but if you are a fan of crime movies this is an acceptable time filler. Where it fails is in the wasting of three talented actresses Diana Muldaur, underused, Colleen Dewhurst, although she comes across the most strongly it is more the power of her personality and presence than anything she's given to work with in a throwaway part, and Julie Adams, she and Wayne have a good rapport in their one scene and you have a feeling there is more to their story but then she is gone from the film.
Even though it's the poor man's Magnum Force, there's something really fun and different about McQ. John Wayne is always so charismatic and cool that it doesn't really matter what he's in, it's gonna be worthwhile. I really like the overall tone of the movie, it's not overly violent or over the top. It's more of a traditional approach to the genre, which is nice. I like that there is a world where you can be a one man army and still succeed on top.
Conner Rainwater
Super Reviewer
½
John Wayne was a cowboy, pure and simple. He was also a war veteran at times. But he most certainly was not a cop and this movie shows why. It's a guilty pleasure of mine and I enjoy it, but after seeing this film I'm glad he turned down Dirty Harry because that never would've worked with anyone excet for Clint. Not a bad movie, but certainly not a classic.
Derek Daniels
Super Reviewer
McQ Quotes
There are no approved quotes yet for this movie.