Meatballs Part II
(1984)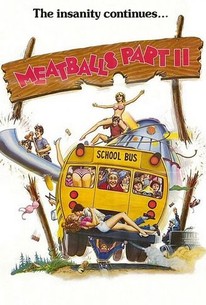 AUDIENCE SCORE
Critic Consensus: No consensus yet.
Movie Info
There have been almost enough Meatballs to make a plate of spaghetti, but this entry about a decisive boxing match between two youth camps is basically inedible without Bill Murray to add the necessary zest, as he did in the original Meatballs. "The Flash" (John Mengatti) is out on probation but has to serve time at Camp Sasquatch as a counselor-in-training (!) as a part of the probation terms. There, he meets the super-innocent Cheryl (Kim Richards), adding interest to his job, but none of the characters in Camp Sasquatch or its rival Camp Patton add much interest to the film. Hershey (Hamilton Camp) is the one-dimensional fascist who runs the militaristic Camp Patton and sure enough, his aide-de-camp is a closet gay (John Larroquette). (Paul Reubens) of Pee Wee Herman fame is a minor player, Richard Mulligan is Giddy (an apt name for his character) and when these oddballs are combined with a strange- looking alien and the final boxing match that will save Camp Sasquatch if only The Flash can win, the pastiche is somewhat hard to digest. ~ Eleanor Mannikka, Rovi
Rating:
PG
Genre:
Directed By:
Written By:
In Theaters:
Runtime:
Studio:
Sony Pictures Entertainment
Critic Reviews for Meatballs Part II
All Critics (2) | Top Critics (1) | Fresh (0) | Rotten (2)
Pallid writing, awkward acting, familiar situations and tired jokes make the morons, wimps and losers of ''Meatballs Part II'' easy to pass up.
New York Times
Top Critic
The difference between this movie and the original is Bill Murray, whose charm gave the first film its best moments and raised the mediocre plot into something mindless but sweet. Here the characters are stereotypes.
Audience Reviews for Meatballs Part II
Meatballs 2 is unequivocally one of the greatest stories ever told in the history of cinema!!! Period, exclamation point!! It's a story of growth, acceptance, tolerance, love, true friendship, and the loss of innocence... Meathead absolutely makes this movie! How and why Meathead didn't win the Oscar for best actor is one of the grossest injustices in the history of the f*ckin planet!!!!!!!!!! There's a scene at the end, that just absolutely sums up life!!!! When Flash knocks out Ogre and Camp Sasquatch's fans are counting him out, everybody in the camp is going nuts, and there you see Meathead, in his yellow rain parka, with his soft innocent eyes taking in the scene of these strange humans cheering for their camp's warrior to rise victorious and secure the lake rights for Camp Sasquatch for years to come! It's that moment where we know what life is all about! Life is about experiences, trying new things, meeting new people, taking chances, and having fun! And at that moment when you see Meathead standing in the crowd, you simply know - this is what life is about! And Meathead experienced it! Shortly he'll be on his UFO back to his home planet, infused with legions of lessons learned and human experiences that he will now grow, and draw upon for the rest of his days!! A brilliant piece of work... Also, the onscreen romance between Flash and Cheryl brought me to G-damn tears! A young innocent Catholic school girl discovering penises, sex, and a boy from the wrong side of the tracks. Poetically, through the power of film, the relationship between Flash and Cheryl takes one back to that moment in adolescents when we learned that life and romance was not a Disney movie, but rather that romance and love is a stolen Playboy and a borrowed copy of Debbie Does Dallas from your best friends dad's secret stash... And it's fitting that Kim Richards plays the role of the innocent Cheryl, as presently Richards causes humanity to lose faith in society more and more each day as she is a real housewife of Beverly Hills - talk about the loss of innocence. Jesus! And how can we forget Flash! The troubled Italian boy who is forced to counsel at Sasquatch as part of a judges sentencing... At first we see an angry, aloof boy who cares nothing for anything but himself. Yet by the end we see him in the boxing ring, fighting it out with a man twice his size to save Camp Sasquatch from Camp Patton across the lake... Honestly though, Flash is just trying to bang Cheryl. Can you blame him though???? Meatballs 2 is one of the finest works of art in the history of the world!!!! You will laugh, you will cry, you will be taken away to your childhood and of friendships and lessons learned!! Do yourself a favor, sit down, turn out all the lights, take your pants off, and watch this movie! You won't regret it! You will be transformed for the better!!! See it!!!
Johnny Lawrence
A horrible sequel to a fun movie, I was really disappointed, and I hadn't even expected much from it in the first place. It's just stupid.
Horrible movie with the exception of a few funny moments. The acting and story are pretty bad, though, so I would not recommend this one.
Lisa Spader