Meduzot (Jellyfish)
(2008)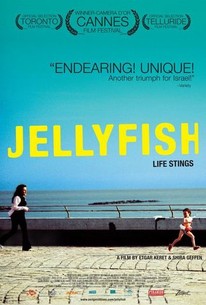 Meduzot (Jellyfish) Photos
Movie Info
Israeli co-directors Etgar Keret and Shira Geffen's ensemble comedy drama Meduzot (aka Jellyfish, 2007) weaves together multiple seriocomic tales of intersecting lives, set against the deep azure backdrop of Middle Eastern seascapes. Affording equal emphasis to each tale, Keret and Geffen first hone in on Batya (Sarah Adler), a young woman employed as a caterer, whose firm places strongest emphasis on weddings. As the film opens, Batya breaks up with her boyfriend, and struggles with her supremely dysfunctional, argumentative parents, who correspond with her only by leaving periodic messages on her answering machine. Her life takes a most unpredictable turn when she happens upon a tearstained little girl (Nikol Leidman) who wanders out of the ocean, wearing only a pair of panties and toting an inner tube -- origin unknown. The foundling gravitates magnetically to Batya and refuses to separate from her. Meanwhile, at Batya's latest assignment -- the Hebrew wedding of Michael (Gera Sandler) and Keren (Noa Knoller) -- the gorgeous bride breaks a leg while attempting to escape from a locked toilet, thus inevitably delaying her honeymoon in the Caribbean. Also present at the wedding reception is a Filipino caregiver, Joy (Ma-nenita De Latorre), saddled with an array of grouchy, snotty elderly clients who make verbal barbs in Hebrew that she cannot understand. In her private life, Joy struggles with geographical estrangement from her young son -- who still resides in the Philippines -- and remains completely aware of the irony that she's caring for nonfamilial dependents but virtually abandoning her own flesh and blood. And in yet another substory, Malka (Zaharira Harifai), one of Joy's octogenarian clients, gripes and moans about her own actress daughter's participation in an "experimental" version of Hamlet but demonstrates her own ability to reassure and encourage Joy. The ocean -- recurrent throughout the picture -- adds an allegorical layer to the proceedings; in the hands of Keret and Geffen, it symbolizes the narrative juggle of multiple lives, and the lack of self-determinism inherent in any -- the idea that all are wholly subject to the caprices of fate. ~ Nathan Southern, Rovi
People Who Like this movie also like
Critic Reviews for Meduzot (Jellyfish)
Audience Reviews for Meduzot (Jellyfish)
Enchanting and intriguing. The Israeli version of the converging story line executed quite effectively.
John Ballantine
Super Reviewer
½
[font=Century Gothic]"Jellyfish" starts with Batya(Sarah Adler) kicking her boyfriend out of their apartment but has second thoughts which affects her job at a catering hall where Michael(Gera Sandler) and Keren(Noa Knoller) are having their wedding reception. On what should be their happiest day, Keren breaks her ankle, canceling their honeymoon to the Caribbean, instead forcing them to stay near home at a hotel in Tel Aviv near the sea. At the beach, Batya goes to console herself where a young girl(Nikol Leidman) walks out of the sea. And Joy(Ma-nenita De Latorre) is a nurse from the Philippines, working in Israel as a caretaker for elderly patients...[/font] [font=Century Gothic][/font] [font=Century Gothic]"Jellyfish" is an unassuming and perceptive drama with some magical realism thrown in. While one plotline is predictable, all three intersect occasionally(Batya and Joy run into each other a couple of times) but never quite gel to form a complete picture. However, there are themes that are consistent with each, especially concerning love and how a surrogate is sometimes required to care for loved ones, be they young or old. Although we may not always have the right word to express ourselves(or the right language), there are gestures that can work just as well. [/font] [font=Century Gothic][/font] [font=Century Gothic][/font]
Meduzot (Jellyfish) Quotes
There are no approved quotes yet for this movie.