Meet the Blacks
(2016)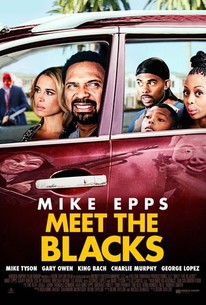 Movie Info
After obtaining a great deal of money, the patriarch (Mike Epps) of a black family decides they should move from Chicago to a posh neighborhood in Beverly Hills. However, they are soon terrorized by home intruders who want them out of the affluent community in this comedic spoof of the Purge films. Zulay Henao, George Lopez, Mike Tyson, and Charlie Murphy co-star. Directed by Deon Taylor.
News & Interviews for Meet the Blacks
Critic Reviews for Meet the Blacks
Audience Reviews for Meet the Blacks
Look, I know I've said this before, and will continue to say this as long as spoof films are being made, but this genre has been dead since the 90s after the last Naked Gun movie was released. But I'm not even talking about the Naked Gun types, that made fun of old school cop show tropes and cliches. I'm talking about the more specific type of spoofs, where they go after a specific movie or various movies. I don't think there has been a spoof of this type in YEARS that has actually been good. I guess you could say Black Dynamite is the only one, but again, that spoofs the blaxploitation film genre as a whole and not a specific movie. To me, the best spoofs work because there's a level of respect for the material that you are poking fun at. Like, as I just mentioned, Black Dynamite or Young Frankenstein. Both of those films, while poking fun at the silliness of their chosen target to spoof, are also very much loving tributes to the films that inspired them to make the spoof in the first place. And I think that's definitely something to that that needs to be said. The best spoofs are those that make fun, but also find a way to show their love and appreciation. I think that's part of why I find the Seltzer/Friedberg spoofs (Epic Movie, Date Movie, Meet the Spartans) are some of the worst spoofs in existence. Hell, they're not just the worst spoofs in existence, they're some of the worst movies I have ever seen. The point of those flicks is to be as dumb as humanly possible without actually putting in any effort into actual decent comedy. Which brings us to Meet the Blacks. I can honestly understand the way that this movie approached its parodying of the Purge film series. Unlike Young Frankenstein or even Black Dynamite, the fact of the matter is that the Purge aren't classic movies. The first one wasn't that good to begin with, but the last two were actually fun genre movies. So I can understand the film not being a loving tribute to the Purge movies, because those movie just aren't classics. Particularly not so close to the film actually being released. But, honestly, this is a terrible movie no matter how you look at it. When the best thing about it is how great Zulay Henao looks, then you know that the movie doesn't offer much in the way of quality. Don't get me wrong, though, there's some good ideas here. I like the fact that everyone that Carl fucked over before he left Chicago is now attempting to purge him. From his ex, to people he owes money to, to the president of the Home Owners' Association that sold him the house without knowing that he was a black man, yes, to the drug dealer that he stole money and weed from, even the KKK shows up. Fucking everybody comes after Carl and I liked that concept. I liked the concept because it pretty much allows the movie to throw just about everything they can out there, no matter how ridiculous or absurd. So I applaud the film's attempts at absurdity, to keep things from ever getting too stale. The problems the film has certainly aren't related to the fact that it's a dull movie. It's anything but. The problems come in the fact that the jokes in the movie are just no fucking good whatsoever. The jokes are so fucking bad. Not to say there aren't some scenes that made me chuckle, but, by and large, 8 out of 10 jokes are misses. And the 2 that are hits aren't even that good anyway. Part of the problem is the fact that Mike Epps is a terrible actor. Just fucking terrible. I have no idea how he is a stand-up comic, but he almost has to be better, but let's just say that he hasn't made the transition as smoothly as others like Kevin Hart or even Hannibal Buress, albeit in smaller roles. The fact that we're asked to believe Mike Epps can believably carry a movie on his own, even one as this that's all about the absurdities and not necessarily about actual acting talent, is more difficult to believe than the fact that this universe got to a point where crime was legal for just one night. That's how bad Mike Epps is in this movie. Either that or he just didn't give a fuck and he was just doing this movie for the paycheck, which is also very possible. Nobody in the cast is really that good to begin with, but Mike Epps is on another level of bad. Like I said, there's some good ideas here and there, but the movie just wastes them with some of the worst jokes you will see all year. Now that I really think about it, this might actually be one of the worst movies I've seen all year. It's really that fucking bad. Not recommended at all.
Jesse Ortega
Super Reviewer
Wayans more racist than it needs to be, Meet the Blacks makes a case for a purge of horrible spoof comedies before they hit the production stage. It's hard to actually term this flick an out-and-out spoof as it seems more like a sidequel to The Purge and its sequel, Anarchy. It employs the same concept, execution, and, like those thrillers, offers very few laughs. Also, instead of murderous thugs, Epps and company face off with creditors, repo men, and drug dealers. Honestly, the movie is less of a spoof and more of a fish-out-of-water comedy, with the latter half of that description used lightly. While it's somewhat refreshing to see a movie unafraid to tackle stereotypes in our overly PC society, one could just imagine the furor that would arise if the flick reversed the premise and was titled Meet the Whites. An equal opportunity offender, Meet the Blacks at least throws every ethnicity and race under the short bus. In this R-rated comedy, Carl Black (Epps) gets the opportunity to move his family out of Chicago in hope of a better life, but their arrival in Beverly Hills is timed with that city's annual purge, where all crime is legal for twelve hours. The fact that one of this so-called comedy's best gags features George Lopez as a U.S. president named El Bama, however, pretty much means that it's too inconsequential to raise a fuss. He and Mike Tyson get off easy, spending as little time as possible on screen. Subjected to shtick baser and lewder than a Your-Momma-So-Fat joke, it's moviegoers who suffer through the painful full sentence. Bottom line: Beverly Hills Crap