Mega Piranha
(2010)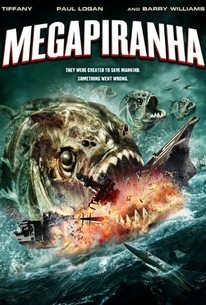 Movie Info
Join Special Agent Finch and Professor Sarah Monroe as a mutant strain of giant ferocious piranha escape from the Amazon and eat their way toward Florida. Will the entire population of Florida be saved from complete annihilation? Featuring explosive set pieces, stunning special effects and the most fearsome marine monsters in the history of film, "Mega Piranha" is the riotously entertaining new creature feature from the makers of last year's massive DVD success, "Mega Shark Vs Giant Octopus." Prepare for the ultimate bite-sized blockbusting thrill-ride that will leave you desperately hanging onto the edge of your seat.
Critic Reviews for Mega Piranha
Audience Reviews for Mega Piranha
They're eating boats and alligator bodies, dammit!
Coxxie Mild Sauce
Super Reviewer
When genetic experiments get out of hand, piranhas turn into giant, flying, cannibalistic hermpahrodites that explode when they contact building materials. This is a real self-esteem movie: no matter how stupid you are in real life, you'll be convinced you're a genius compared to the people who made MEGA PIRANHA.
Tiffany and Barry Williams fight Man eating fish that are growing exponentially. Not as exciting as you'd hope.
Ken Stachnik
Super Reviewer
Mega Piranha Quotes
There are no approved quotes yet for this movie.