Memories Of Matsuko
(2006)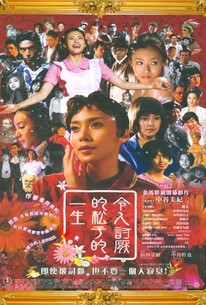 AUDIENCE SCORE
Critic Consensus: No consensus yet.
Movie Info
An aimless twenty-year old drowning himself in booze after a recent break-up begins to come around while piecing together the life of the aunt he never knew he had in director Tetsuya Nakashima's adaptation of Muneki Yamada's original novel. Unable to deal with his latest break-up, Sho Kawajiri (Eita) has locked himself away in his Tokyo apartment to dull the pain in an emotion-numbing sea of alcohol and pornography. When his estranged father suddenly appears to present Sho with the ashes of the aunt that he had never known, the crestfallen son soon finds his sorrow replaced with a driving curiosity about his mysterious Aunt Matsuko (Miki Nakatani). Later, when Sho travels to his deceased aunt's ramshackle apartment, it begins to appear Matsuko is reaching out from the great beyond to take her nephew a guided tour of her tragic life. As a child, Matsuko's father lavished attention on the girl's chronically-ill sister as the healthier Matsuko sat love-starved on the sidelines. Though she would eventually grow to become a popular junior high school teacher in her hometown, Matsuko's career was cut unexpectedly short when she boldly took the blame for a theft that was actually committed by her prized pupil Ryu. In the years that followed, Matsuko's desperate search for love would lead her into a series of abusive relationships with me incapable of coping with her smothering affections. Later, after falling from grace as a sex worker and serving a stint in prison, Matsuko crosses paths with her favorite student Ryo and finally believes she has found true love. Unfortunately for Matsuko, Ryo has become a violent gangster, and the person she thought would finally bring the love she had always longed for soon abandons her. Now left alone in the world and bereft of the life-affirming love that once seemed so closely within reach, Matsuko wanders down a corrosive path of self-destruction that will eventually seal her own grim fate.
Critic Reviews for Memories Of Matsuko
All Critics (1) | Fresh (0) | Rotten (1)
Rarely has human abjection looked so good - but in the end, all the whimsy outstays its welcome in this quirkily shallow offering.
Audience Reviews for Memories Of Matsuko
Absoultely brilliant. A dark dark story about sibling rivalry, murder, domestic violence, drugs & prostitution dressed up as a multi-coloured, quirky happy-go-lucky musical with an upbeat message about the meaningfulness of a life. Truly one of a kind. From KUNAM88's favourites list
Tetsuya Nakashima really got his name out there with Kamikaze Girls. Memories of Matsuko is the follow up movie and he still has it. This film doesn't disappoint.
My most favorite genres include action, martial arts, science fiction, and fantasy. Other than a little bit of fantasy, you won't find any of the those in here. You will find drama, music, and comedy. Sounds like this isn't high on my must see list. Nakashima finds a way to make this enjoyable.
This is a two hour 10 minute movie and while it will not blow by, it is not a waste of time by any means. When it comes down to it the story is exactly what the title states. Memories of Matsuko. The opening credits aren't anything explosive or fancy, but it sure is uniquely creative. That can be said about this entire film. It isn't the greatest, it isn't the funniest, but it is one h*** of an entertaining time. I previously mentioned that this will not fly by, but the first 45 minutes do. It is so dynamic and upbeat that you don't want it to end. The visuals, camerawork, and background music just blast this movie forward.
The film gradually loses it's pizazz, but not entirely. The great directing and storytelling is still intact. There is still some wackiness going on too, including cartoon birds. While the film tones down, Nakashima does a good job at getting the viewer's interest in the story. This is why the 2 hours 10 minutes is not a waste. You feel for Matsuko, especially near the ending, which I find to be pretty f***** up! You also know the outcome of the movie from the beginning, but it is quite the eventful journey to get there. Even the end credits is worth the watch. It has a mashup of the songs that are done in the film.
The acting is fantastic. Nakashima has a way of getting his leads to shine. In here it is Miki Nakatani. She does a little bit of everything. There are also a ton of recognizable faces, who show up for small roles throughout.
Memories of Matsuko isn't for everyone, but true movie lovers will find this enjoyable. "Happy Wednesday!" Bring on Paco!
Memories Of Matsuko Quotes
There are no approved quotes yet for this movie.