Message in a Bottle
(1999)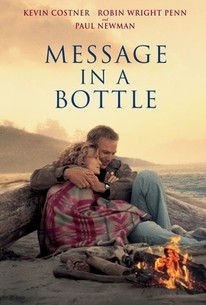 Message in a Bottle Photos
Movie Info
Based on the novel by Nicholas Sparks, Message In A Bottle stars Robin Wright Penn as Theresa Osborne, a writer for the Chicago Tribune. While her son visits her cheating ex-husband, Theresa goes on a vacation by herself. One day, while running on the beach, she finds a bottle washed up on the shore. She opens it and inside finds a love letter unlike any she's ever read. Captivated by the author's words of love, she returns to her job at the Tribune where she convinces her boss to run an article about the mystery writer, known only as "G." He approves, and Theresa begins her hunt. Scrutinizing every physical detail of the letter and the path the bottle may have taken, she eventually locates Garret Blake (Kevin Costner), a North Carolina boat-restorer who has not been the same since the tragic death of his beloved wife Catherine. Since her death, Garret has written several letters to his dead wife, put them in a bottles, and let them loose in the sea. As Theresa spends time with Garret, she quickly falls in love with him, though she neglects to tell him she knows about the letters. Garret, prodded by his cantankerous, no-nonsense dad, Dodge (Paul Newman), emerges from his shell of grief and develops an interest in Theresa as well. Theresa returns to Chicago and Garret soon visits her; he meets her son, Jason (Jesse James), but also discovers her knowledge of the letters. Eventually the two, who have both lost love, must cast off their emotional baggage and decide if they will pursue love even if it can't always last. ~ Ron Wells, Rovi
People Who Like this movie also like
Critic Reviews for Message in a Bottle
Audience Reviews for Message in a Bottle
You know that movie where a famous doctor/cannibal/serial killer cuts open a victim's skull, cuts away some brain matter w/out killing the guy, fries it up in a hot skillet, and then feeds it again to the victim ("that's good," said the poor schmuck)? Well here at last is the cinematic equivalent to that experience.
Kevin M. Williams
Super Reviewer
½
Cast: Kevin Costner, Robin Wright Penn, Paul Newman, Robbie Coltrane, John Savage, Illeana Douglas Director: Luis Mandoki Summary: Newspaper researcher Theresa Osborne (Robin Wright Penn) finds a letter in a bottle penned by grieving shipbuilder Garret Blake (Kevin Costner), who writes to ease the pain of his wife's death. But when Osborne tracks Blake down, their growing attraction is endangered by their pasts. Based on Nicholas Sparks's best-selling novel, director Luis Mandoki's romantic drama explores the possibility of love amid heartache. My Thoughts: "Another film based on a Nicholas Sparks book. I'm not familiar with his books. Never read one, but I have seen quite a few of the films based on his novels. I don't know if this is a spoiler or not so you may want to skip this sentence or a few more of them; but is every relationship in his books doomed? Every film I have seen of his, the relationships are going great and then BAM! The love interest is dead. Quite depressing way to write. Build up such a great love story to just end it in despair. The man is obsess with killing off all the 'better halves' of these poor people. Besides that, I thought the film was a good little sappy romance flick. I could have done without all the horrible love songs. The acting was good, and I loved Paul Newman as the no BS father. Kevin Costner redeemed himself in my eyes from the horrible film I recently saw him in. He does much better in these types of roles. Those of you who enjoyed the book, or who like romance films will enjoy this one as well."
♥˩ƳИИ ƜѲѲƉƧ♥
Super Reviewer
I really enjoyed this but in my opinion I liked the book a lot better then the movie.
Cassie Hill
Super Reviewer
Message in a Bottle Quotes
| | |
| --- | --- |
| Theresa Osborne: | If some lives form a perfect circle, other take shape in ways we cannot predict or always understand. Loss has been part of my journey. But it has also shown me what is precious. So has love for which I can only be grateful. |
| | |
| --- | --- |
| Garret Blake: | Theresa! I don't want to lose you. |
| Theresa Osborne: | Then don't. |