Mimic
(1997)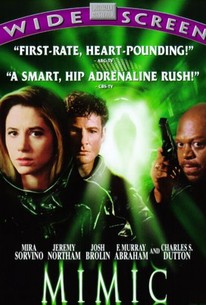 Movie Info
While one would imagine that the average New Yorker would be used to dealing with bugs after years of apartment dwelling, a scientific experiment gone wrong results in an insect that even Raid can't handle in this sci-fi/horror thriller. In Manhattan, cockroaches are spreading a deadly disease that is claiming hundreds of the city's children, so entomologist Susan Tyler (Mira Sorvino) uses genetic engineering techniques to create what she and her colleague (and husband) Peter Mann (Jeremy Northam) call the Judas Breed, a large insect that will feed on the disease carrying roaches. Since the Judas bugs have been designed so that they can't breed, the mutated species should die out in a matter of a few years. However, Susan, Peter, and their staff severely underestimated the cockroach's ability to adapt to its conditions. The Judas Breed has indeed found a way to reproduce itself, but more importantly, the insect has grown remarkably large (sometimes reaching six feet in length), has developed a taste for meat, and can mimic the appearance and behavior of other creatures with uncanny accuracy -- including humans. Susan and Peter have learned that huge swarms of the Judas Breed are living beneath the city in the subway system, and with the help of Leonard (Charles S. Dutton), a transit system employee who knows the labyrinth of subway tunnels like the back of his hand, they search out the humanoid insects before they can take over the city. Mimic also features Giancarlo Giannini, Josh Brolin, and F. Murray Abraham. ~ Mark Deming, Rovi
People Who Like this movie also like
Audience Reviews for Mimic
½
Underrated sci-fi/horror movie with a neat concept, some fun creature effects and an all around neat gorey factor.
Aaron Neuwirth
Super Reviewer
½
Mimic is a well executed Sci Fi horror film. I went into this one expecting something average, and what I got was a definite surprise. Although not a great film by any means, Mimic works well due to the terrific direction of Guillermo del Toro. This is an underrated film in my opinion and it is a far better movie than what people have said about it. The cast here are quite good, but for me the idea and effects here are the standout of the film. Mimic is a treat for genre fans and it most certainly has something to offer to anyone looking for a well thought out and entertaining movie. Del Toro has crafted one of his finest movies here, only surpassed by Pan's Labyrinth and Pacific Rim. This is an entertaining, atmospheric horror film that delivers some effectively well placed shocks. The creatures look great and the effects, like I said are simply wonderful and make the film what it is. I think that despite the fact that it's not too original, Mimic works well due in fact to the interesting and well written script. Add in the good looking monsters, and you have a film that stands out. This film seems to be forgotten, and it's a great shame because there is some truly engaging moments in del Toro's movie. The director's Cut of the film is the one to watch and it far exceeds the theatrical cut of the film, which I find lacked. Mimic is a very good film, and the director's Cut is the one to watch, it's a real treat for fans that felt that there was something missing from the original released version. If you you're a monster film fan give this film a shot, you'll be surprised at how good it really is despite its imperfections.
Before Mimic degenerated into a generic action picture during the final act, this is a creepy and effective creature feature that legitimately gave me the chills a few times. This film has fantastic atmosphere and mood, as all Guillermo Del Toro films do, and despite there being a little age on the special effects they are still largely good. The problems with Mimic are its lack of character development and likable characters to root for. Mira Sorvino's character is really the only one that gets an ounce of development. As a result, when characters start getting killed off, it's hard to muster any feelings. The dialogue can be poorly written at times as well which doesn't help. What gets you is that these creatures are nasty, unique, and downright scary at times. The fact that they can mimic humans and disguise themselves just sent a chill down my spine that I rarely get. There are truly lots of good ideas in the film; they just forgot some other things along the way. Even though Mimic is far from Del Toro's best film, it can be one of the creepiest films I've seen in a while when the characters and dialogue don't get in the way.
Josh Lewis
Super Reviewer
Mimic Quotes
| | |
| --- | --- |
| Leonard: | Why are you asking me if I've seen some shit like this before? Do I look like I've seen some shit like this before? Hell no I ain't never seen no shit like this before! Who the fuck would wanna climb up these wall and hang one of these? Must have been a big elephant ass motherfucker. I don't know what the fuck. |
| | |
| --- | --- |
| Manny: | Play them crazy spoons boy! |
| | |
| --- | --- |
| Josh: | Funny shoes! Funny face! Funny place! |
| | |
| --- | --- |
| Josh: | This is what I love about my job. I get to travel, see the world, meet new cultures. I mean, it's all bacterial, but, hey, what the fuck? |