Mindhunters
(2005)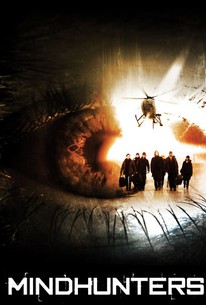 Movie Info
Finnish-born Hollywood filmmaker Renny Harlin directs the suspense thriller Mindhunters with a screenplay by writer/director Wayne Kramer. Val Kilmer stars as Harris, an FBI official teaching a group of trainees the art of profiling serial killers. He takes them on a weekend retreat to a deserted island for some supplemental simulation exercises in which they catch a fake killer. When some FBI trainees get killed for real, the rest figure the murderer must be one of them. Class leader Sara (Kathryn Morris) must try to stay alive long enough to figure out if one of her colleagues is the murderer. Is it Gabe (LL Cool J), J.D. Reston (Christian Slater), Bobby (Eion Bailey), Rafe (Will Kemp), Lucas (Jonny Lee Miller), Vince (Clifton Collins Jr.), or Nicole (Patricia Velazquez)?
People Who Like this movie also like
Critic Reviews for Mindhunters
Audience Reviews for Mindhunters
½
Teeheehee! This kind of reminds me of a parallel version of Saw, which paradoxically takes itself more seriously but has a greater sense of fun. A bunch of impossibly smart, conveniently wounded and hubristically arrogant characters are stranded on an island and pitted against a serial killer that apparently has the powers of telepathy and precognition. It's like death-by-Rube-Goldberg-device set against the backdrop of a gritty police procedural drama. It's the strangest and funniest thing to watch. There are scenes that totally grip you in suspense (though in hindsight, what you're watching was ridiculous), and scenes of flippant humour that help the audience bond to the characters. This is such a great popcorn horror movie. I have nothing bad to say about it. When the writers give him cheese, Renny Harlin makes an omelette.
Emily Armstrong
Super Reviewer
½
28/08/2010 (TELEVISION)

A great "Twistie Flick" that lives up to it's title, I was actually loosing my mind during my experience. Funny, I have a collection of DVDs I haven't seen and yet I choose to watch TV... What is that?

Anyway, this movie was able to extract the consistency of my interest and keep me there till the end. I must admit, for someone like me to keep guessing is unusual. I usually know who the culprit is before the film ends, but this time I was going back and fourth.

This is another one I have never heard of but enjoyed and it was more than a decent watch in my opinion. I have never seen some of these actors and actresses before but they did deliver the goods and the final product was indeed a worthy check.
EightThirty .
Super Reviewer
½
Kilmer back on some form here as an FBI trainer taking his new recruits to an abandoned island for some serial killer catcher training....oh you just know its gonna go tits up right lol!! Clearly a flick of hopes as the cast is pretty good, Christian Slater, Kilmer, Clifton Collins Jr, Jonny Lee Miller and LL Cool J are all onboard for this slasher. Think 'Scream' or any kind of horror film in that kind of vain and you have this reasonable killer chiller, there is plenty of dark rooms, jumpy moments, silent corridors and nice death sequences in the form of little traps which do remind you alittle of 'Final Destination' and are quite well done too. There is plenty of claret on display and some gruesome kills which look good and keep you engaged right to the end, alittle predictable in the outcome but still quite enjoyable but the finale is slightly flat. At the end of the day this is simply a group of people stuck in a building getting killed off one at a time, hardly genius is it....but its silly fun which is worth alook if your a fan of the stalk n slash genre.
Phil Hubbs
Super Reviewer
Mindhunters Quotes
| | |
| --- | --- |
| Jake Harris: | Are you having fun yet? I'm having fun. |
| | |
| --- | --- |
| Jake Harris: | Here we are in Crimetown, USA, where all the residents are dead, or soon will be. |
| | |
| --- | --- |
| Jake Harris: | Your most lethal weapon isn't your firearm, It's your brain. |
Discussion Forum
Discuss Mindhunters on our Movie forum!