Mini's First Time
(2006)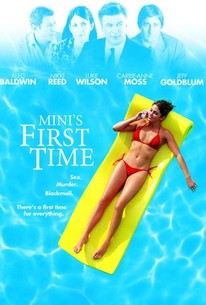 Movie Info
Nick Guthe's darkly comic Mini's First Time stars Nikki Reed as the title character, a manipulative, highly sexualized teenager with parents who fail to offer much structure or guidance. Her stepfather (Alec Baldwin) is rich and dim, and her mother (Carrie-Anne Moss) leads a hard-partying lifestyle. As the relationship between Mini and her stepfather grows more twisted, criminal activity occurs. Luke Wilson appears as a detective investigating the situation, and Jeff Goldblum plays their wealthy neighbor.
People Who Like this movie also like
News & Interviews for Mini's First Time
Critic Reviews for Mini's First Time
Audience Reviews for Mini's First Time
½
Very dark little story - I didn't expect too much from it, so I was pleasantly surprised. The plot is a little silly - a young teenage girl (Nikki Reed) gets her kicks by daring herself to do things (hence the "first" in the title). In this case it is prostitution, followed by sleeping with her stepfather (Alec Baldwin). I personally am not the biggest fan of Nikki Reed on screen - I am sure she is a lovely person, but she's hard faced and she looks older than the characters she is playing (generally). In this case, though, it kind of works because Mini is totally unredeemable. She is not a nice girl, and she does not have any revelation by the end that makes her change her ways. Yeah, you get that her mum had issues and she didn't have the most loving upbringing,but this girl is borderline psycho! Enjoyable film if you don't pick at the flaws too much!
Nicki Marie
Super Reviewer
The performances are incredible. The twists and turns are a a blast. Definitely not a film for those who don't like dark comedy, but those with more sick, twisted senses of humor should love it.
[font=Century Gothic]"Mini's First Time" starts with Mini(Nikki Reed) giving her speech as the first high school valedictorian with a C average. How she got there begins with her jumping out of her own birthday cake naked at her birthday party thrown by her dipsomaniac mother, Diane(Carrie-Anne Moss). To top that, Mini goes to work for an escort service where unbeknowst to him, she has sex with her stepfather, Martin(Alec Baldwin), a public relations executive. They have an affair and plot to drive Diane insane...[/font] [font=Century Gothic][/font] [font=Century Gothic][/font] [font=Century Gothic]"Mini's First Time" is a gleefully nasty black comedy without much of a conscience. And I mean that as a compliment. The movie is not terribly original but it succeeds more than any of its ilk, simply through pure attitude which is the only way to go here. A good cast helps including Luke Wilson and Jeff Goldblum. And Alec Baldwin has never been more relaxed.[/font] [font=Century Gothic][/font] [font=Century Gothic]I would not suggest looking for a moral here but if you were, it is that maybe with adults like these, it is no wonder the kids are so screwed up. And birth control is definitely a good idea.[/font]
Mini's First Time Quotes
There are no approved quotes yet for this movie.