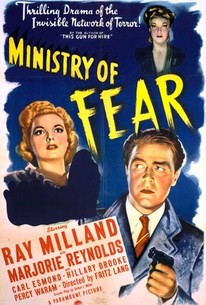 Ministry of Fear
1944, Mystery & thriller, 1h 25m
27 Reviews
500+ Ratings
Rate And Review
Movie Info
Fresh from a two-year stint in a mental institution for the alleged "mercy killing" of his ailing wife, Stephen Neale (Ray Milland) visits a carnival where he wins a cake by guessing its weight. The cake, however, contains a microfilm sought after by Nazi spies, and Stephen soon finds himself a target. On the run and unsure of whom to trust, he enlists the help of a private detective (Erskine Sanford), a beautiful woman (Marjorie Reynolds) and an inspector from Scotland Yard (Percy Waram).
Audience Reviews for Ministry of Fear
I don't really care that the story is ridiculous, Lang directed the film beautifully (Is there any other director who used contrasting shadow and light so well?) and I like that its a WWII propaganda film, that doesn't really feel like a propaganda film . . . probably because the "heroes" and "villains" are less clearly defined than most stuff from that era.

Perhaps it was the mix of the femme-fatale, the American atmosphere Lang adopted mainly in Fury (1936) and the Hitchcock style the one that prevents me from giving this a higher rating, but -generally speaking- it is a rather solid and enjoyable dark thriller. 76/100

Ministry of Fear is easily one of Fritz Lang's high points of the 1940s. He does a great job capturing WWII London with a dreadful mood. The chase scene in the beginning as well as the seance scene is worth it alone. The cast is good, but the set design is superb and if my senses aren't failing me I'd say that Ministry of Fear is a precursor to North By Northwest. Overall, the setup is good, the middle dwindles a bit and the last few minutes are kind of weak (with a slightly embarrassing ending) but if you can get your hands on a copy of this movie it's worth the time.
See Details