Mirageman
(2007)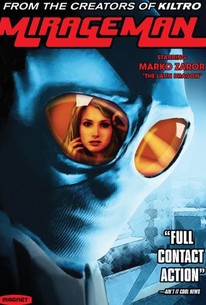 AUDIENCE SCORE
Critic Consensus: No consensus yet.
Movie Info
The principal players behind the Chilean martial arts hit Kiltro reunite for this action-packed tale of a young orphan who grows up to be a vigilante crime fighter. Maco (Marko Zaror) was just a young boy when his family became the victims of a violent home invasion that resulted in the death of his parents and rendered his younger brother nearly catatonic. Years later, Maco pays regular visits to his brother in a nearby mental institution, and pays his bills by working as a bouncer in a seedy strip club. Every minute of Maco's spare time is dedicated to perfecting his skills as a martial artist so that he can never be victimized again. One night, after stumbling across a home invasion in progress, Maco instinctively leaps into action - saving a woman from being raped and triggering a fateful series of events. As fate would have it, the would-be rape victim was actually a prominent television reporter, and decides to pay tribute to her savior during a live television broadcast. Upon seeing the report, Maco's younger brother begins to experience visions of superheroes that instill him with a newfound sense of hope and mysteriously improve his condition. Recognizing that the only way to save his brother may be to transform himself into the hero that the media has made him out to be, Maco dons a homemade mask and begins fighting crime on the streets. Meanwhile, a well-meaning buffoon sets out to become Maco's official sidekick, and the reporter gradually sheds her earnest façade in a series of sensationalistic news reports aimed solely at grabbing ratings.
Critic Reviews for Mirageman
All Critics (4) | Top Critics (1) | Fresh (4) | Rotten (0) | DVD (1)
...a cinematic indie comic that critiques the tropes of its bigger-budget antecedents.

It's to be admired for its ballsy nature in making a movie that is every geek's fantasy. However, it's really nothing more than a martial arts flick with a guy in spandex.
Audience Reviews for Mirageman
½
More than any comic book movie, "Mirageman" truly gets at the heart of superhero mythology. Certainly not flawless (the last third is rather weak, considering what went on before, and chooses to go dark for some reason) but just as certainly pure fucking awesomeness.
He had no superpowers, just his fists and guts.
I freakin love this movie! Marko Zaror is awesome as a modern day masked crusader! Cool music, some awesome stunts, and enough humor to keep it going! Highly recommended!
James Bond, Jr.
Super Reviewer
Mirageman Quotes
There are no approved quotes yet for this movie.