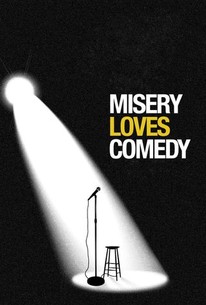 Misery Loves Comedy
2015, Documentary/Comedy, 1h 34m
26 Reviews
250+ Ratings
What to know
Critics Consensus
Misery Loves Comedy starts with an idea worth exploring, but proves frustratingly unable to enlighten or amuse. Read critic reviews
Where to watch
Rent/buy
Free
Rent/buy
Rent/buy
Rate And Review
Misery Loves Comedy Photos
Movie Info
Comics Martin Short, Nick Swardson, Jimmy Fallon and others talk to actor Kevin Pollak about the dark side of being funny.
Audience Reviews for Misery Loves Comedy
SQUAWKING HEADS - My Review of MISERY LOVES COMEDY (2 Stars) A number of years ago, I found myself in the fortunate position of spending an entire day with a very successful comedic actress. We were helping a friend block scenes for a big network series and there was plenty of downtime. While very kind and engaging, there was a noticeable undercurrent of sadness I felt from her. In our many conversations, I asked her if she felt that the greatest comedy came from pain. Not only did she agree, but she told me a story that happened at her High School Reunion. While horribly bullied as a teenager, her subsequent success had people crawling out of the woodwork vying for her attention, including her tormentors. One in particular hit her up for a job, now that she was rich and famous, and her response was, "Just because years have passed, I have and never will forget how terrible you were to me. So no, I won't help you." I asked her, "Don't you think success is the best revenge?" "No," she said, "Revenge is the best revenge." I'm relaying this because after seeing MISERY LOVES COMEDY, a documentary by actor Kevin Pollak, I realized I got more insight into the mind of a funny person in that short exchange than I did watching dozens of comics and actors prattle on in this brief yet interminable film. Literally a series of talking heads with an occasional archival photo thrown in to give the audience a break, this is a messy, sometimes unintelligible, sometimes funny, but always poorly made documentary. The topic is rich. In the wake of Robin Williams' suicide, asking comics if their humor comes from trauma seems like a vital and fascinating subject. Police, however, seems to have assembled a bunch of his friends, mostly white males, many of whom have very tenuous connections to comedy. While talented, we gain very little by hearing Jon Favreau, Bobby Cannavale, and Jason Reitman talking about funny people. Sure, there are those who deliver funny lines, such as Jimmy Fallon and Amy Schumer, but we don't see them going about their lives. In the spirit of "Show don't tell", I would have loved to have seen more footage of comedians bombing, of them struggling in their daily lives, facing their insecurities. Instead, most tell funny stories, but not about their creative process. Often, one of the comics will tell a story that either makes no sense or is so inside, that I'm not sure if there's another person on earth who will comprehend it. The camera work is pretty bad, often shaky or utilizing unflattering angles, and there's very little substance. This isn't a documentary, it's just a long, self-serving conversation. It's a shame, because there are attempts to go deeper. Freddie Prinze Jr. speaks of the pressures he felt to honor his father's legacy, a comic who sadly took his own life at the age of 22. While no comedian himself, Jr. has managed to carve out his own successful career, but his journey to overcome the pain would make an interesting documentary itself. A shame there isn't more of this. Also, bringing a dose of brutal honesty to what is mostly a puff piece, is Bobby Slayton, who candidly describes his financial woes at the age of 59. Again, a peek into his life would have elevated the material. I'd like to say Kevin Pollak killed, as a comedian with a great set will say, but Kevin Pollak killed....in the other sense.
See Details