Mississippi Mermaid (La Sirène du Mississipi)
(1969)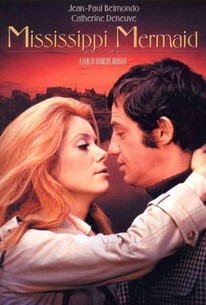 Movie Info
Louis (Jean-Paul Belmondo) is the wealthy factory owner living on a French island off the coast of Africa. When he advertises for a mail order bride, he receives a picture and letter from the woman who agrees to join him. The woman who shows up is not the one in the photo, but Julie (Catherine Deneuve) explains she sent the picture of a friend. The two are soon married and Louis takes ill soon thereafter. As his health worsens, Julie leaves after depleting their joint bank account of all the money. After a frantic drive to the bank, Louis hires a private detective to search for her. Locating Julie in a sleazy dance hall, she explains she is an orphan and was forced into the scam by a man she met on board the ship. The man killed the mail order bride and dumped her body overboard, replacing her with Julie to bleed the wealthy Louis dry. The two try to reconcile after Louis shoots and kills the detective. Hiding out in a remote mountain cabin, Julie slowly poisons Louis with rat poison in this disturbing story of greed and murder.
Critic Reviews for Mississippi Mermaid (La Sirène du Mississipi)
Audience Reviews for Mississippi Mermaid (La Sirène du Mississipi)
½
This movie feels a bit like 'Truffaut doing Hitchcock', which has its good points and bad points. On the positive side, it may surprise you with you with its twists and turns. Knowing absolutely nothing about it, I was intrigued by the first part, when a tobacco plantation owner on Reunion Island (Jean-Paul Belmondo) meets his fiancée (Catherine Deneuve) who he met and fell in love with through the mail, soon realizing that not is all as it seems. However, on the negative side (and without giving away the plot), as the movie went on, the actions of the characters (and Belmondo in particular) were not always believable. Even if you factor in love and physical attraction driving people to extremes, he's remarkably blasé about missing 27 million francs. It kept my interest and had some great shots by Truffaut, including a fantastic scene between Belmondo and Deneuve at a fireplace, but ends up 'good' and 'not great' as a result.
Antonius Block
Super Reviewer
A man mail-orders a wife who rather quickly steals his fortune. He pursues her, and they begin a cat-and-mouse courtship. Critics seem to suggest that this is either Truffaut imitating Hitchcock, a unique love story, or both. For me, the Hitchcockian plot is easy to stay ahead of; the film doesn't offer many surprises, and when it attempts to, they seem contrived and forced. Likewise, the love story lacks any chemistry. I spent most of the film wondering what allure Julie has aside from Catherine Deneuve's rather attractive physique, and from her point of view, how is Jean-Paul not just another obsessive mark? Also, I'm wondering about the comparisons of Truffaut to Hitchcock regarding this film from a directing point of view. Hitch's trademarks were his incredibly well-framed shots, which revealed and concealed with precision, and deft camera movement. Truffaut often sets the camera on a tripod and says, "Action." I think this works well in the Antonin Doinel films, which are more about character than plot, but it falls flat in this noir-ish snore. However, I did like the ending, but for fear of spoiling, I shall not say why. Overall, this film fails to meet any expectations -- high ones like Truffaut's reputation and its comparison to Hitchcock and low ones like what I'd expect any time I start to watch a film.
Jim Hunter
Super Reviewer
½
I'm not sure sure, but I pretty confident that Original Sin (2001) was remake of this film. Original Sin sucked but Mississippi Mermaid is a solid film.
FanGirl Browncoat
Super Reviewer
Mississippi Mermaid (La Sirène du Mississipi) Quotes
There are no approved quotes yet for this movie.