Mojados: Through the Night
(2004)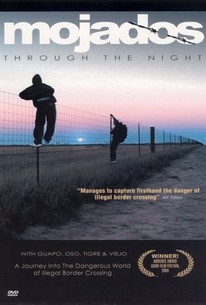 Mojados: Through the Night Photos
Movie Info
In 1995, the United States Border Patrol began employing new strategies in guarding the border between the U.S. and Mexico as part of a bid to reduce the number of illegal immigrants coming into America. While the Border Patrol's plan enjoyed some success, it also created a new problem -- with the easiest routes from Mexico to the United States now heavily guarded, mojados (Mexican slang for the illegal immigrants) began following roundabout paths through the mountains and wastelands, which caused a growing number of travelers to die en route due to exposure, exhaustion, or lack of food and water. First-time filmmaker Tommy Davis, who grew up in a Texas border town and became concerned about the growing fatalities among illegal immigrants, traveled to Michoacan, Mexico, and returned to Texas in the company of four men making the dangerous voyage across the border. Serving as a one-man camera and sound crew, Davis shot Mojados: Through the Night during a 120-mile trip through the desert as Oso, Guapo, Viejo, and Tigre attempt to make their way into Texas -- some have done it before, and all are looking to find work so they can better support their families at home.
Critic Reviews for Mojados: Through the Night
Audience Reviews for Mojados: Through the Night
The subtitles went by too quickly at times (and I'm a fast reader). They were also difficult to read when the background was white. I'm against illegal immigration because I see first hand how it is overloading our health care system. That being said, I'm glad the border patrol officers are humane to these poor people when they find them. This documentary does show how difficult it is for Mexicans to make the crossing and some of the hardships they endure.
Mojados: Through the Night Quotes
There are no approved quotes yet for this movie.